Writing a book can be a daunting task and there is never any shame in getting some help. You should constantly be learning how to become a better writer.
Utilizing the many resources that are available to you will make the process easier and more efficient. There is no telling how long it will take to write your book, so some book writing templates can help speed the process up.
A book writing template acts as a guide that writers can rely on. It helps you create the blueprint for your book. They are useful tools whether you are learning how to write a book, or are already experienced in the craft.
Book writing templates are most useful for new writers who are still wrapping their head around the whole idea of writing a book. A template will give them the structure so all they have to do is let the creativity flow.
Especially for those learning how to write a novel length piece of 50,000 words or more, a book writing template will help you. It will allow you to stay organized and focused while you see your project through to completion.
The Benefits of Book Writing Templates
In addition to helping you do the writing itself, book writing software with templates have many advantages. They are there to help your book be the best it can in all areas.
Some of these templates are built into their own software, but that doesn't mean you can't take them and do what you want with them.
Using these templates in conjunction with Squibler may be beneficial if you are wanting to stay really organized and efficient. It is a fantastic book writing software that is designed for book writers specifically.
Between Squibler and these brilliantly designed templates, you'll be learning how to become a better writer in no time. The templates themselves have many benefits:
Professional Design
While the content itself is the main purpose of your book, aesthetics still need to come into play. From the layout to the font, you want it to look good. Knowing how to write a book isn't only about storytelling.
There are book writing templates that will help you with these things as well.
Book Writing Templates are Easy to Use
When trying to write a good book, you don't want anything to overcomplicate the process. Book writing templates are there to make things easier.
A template will be easy to understand and implement.
Better Publishing Experience
When it comes time to publish your book, having the right book writing template will make for a better experience. You will already have your book laid out the way it should be.
And, if you have chosen a template with design elements as well, you won't have to worry about the way it looks. This makes for a seamless and stress-free publishing process.
Book Writing Templates Save You Time
Writing a book directly from scratch is overwhelming and not always necessary. Book writing templates will give you a head start on the structure of your book. This will save you valuable time.
Even as you begin the writing itself, having the template there to guide you will save you from getting lost in your own story. Once one section is finished you can move onto the next.
You will never have to sit there and wonder where you should go or what should happen.
Characteristics of the Best Book Writing Templates
While book writing templates will vary in what they have to offer, many of the core characteristics will remain the same. These attributes are ones you can look out for when selecting the best book writing template for yourself.
The Best Book Writing Templates are Comprehensive
The best book writing templates are often made by professionals. This means they know what they are doing. They are well versed in the world of writing and they know what will help you.
This means they should be detailed and thorough. Nothing should be missing from the process you are trying to create. For example, a novel outlining template should have sections for all basic aspects of writing a novel:
Research
Outline
Brainstorming
Note taking
Character sketches
Setting sketches
Chapter sections
Scene sections
Worldbuilding
Different types of books will have different requirements, but the template should include all of them.
The Best Book Writing Templates are Customizable
A good quality novel outlining template created by a professional will have a good structure that is effective. However, this doesn't mean their method is set in stone.
A good template will allow you to customize it with ease while still maintaining its own basic structure.
For example, you might want to add more chapters than the number that is being recommended. Or, perhaps you choose to rearrange some aspects of the given novel structure. Making changes is okay – the templates are created as guides only.
The Best Book Writing Templates are Not Complex
While some book writing templates are expansive and cover lots of ground, they shouldn't be complicated. A good template will be straightforward and easy to follow.
You should be able to navigate your way through it and know what you're looking at. For example, the layout should have a proper flow – things should be in order. In a novel writing template, note, research, and brainstorming should all sit next to each other, while chapters and scenes are kept together.
Learning how to write a book is complicated enough. Your book or novel outlining template should be simple at its core.
The 9 Best Book Writing Templates
Many writers swear by using a template and won't start a project without one. Because of this, many options have been created. It can be hard to find the right one.
Start by identifying what type of book you are writing, and go from there. First, find a template that is relevant, then look for one that matches your likes and preferences.
While there are hundreds of templates available, these are some of the best and most common ones. If you are new to templates, it may take going through a few to find your favorite.
Most of the templates listed below can be used with Microsoft Word, Scrivener, Adobe InDesign, or Apple Pages.
For avid Scrivener users, we do have a more comprehensive list of Scrivener templates that you might find useful as well.
The Three Act Story Plotting Template
This template focuses on the most basic level of story structure there: the beginning, the middle, and the end. This is known as the three-act story structure.
The three act template will walk you through all the elements of each act.
The Beginning:
The opening scene
The setup
The inciting incident
Call to action
The Middle:
The choice
Rising action
Reversal
Disaster
Turning point
The End:
Resolve
Climax
Denouncement, or resolution
All of these stages will be laid out for you. Once you have finished brainstorming your story, you need simply to write through every element. This will form an excellent baseline to create an engaging and effective novel.
For more details and some questions to prompt each section, check out Evernote's version of the three-act story plotting template here.
The Story Beats Template
This template was born from the world of script writing. It breaks the story down into "beats." These continue to move the story along as each "beat" or milestone is completed.
This template is also available in more detail from Evernote.
The Spark Template
This book writing template was designed for novels and nonfiction books alike. It can be used with Microsoft Word, Apple Pages, and Adobe InDesign.
The Spark template is created to help you format your book for publishing, with less of a focus on the content itself.
This template offers support for both print and e-book publishing. You can find it available for purchase by clicking here.
The Pulp Template
This is another template that was created mainly to help you format your book for publishing. It offers a sleek and stylish design that is perfect for fiction as well as literary nonfiction.
You can buy it by clicking here.
The Britannia Template
This template is designed specifically for nonfiction writing. Another template to assist you in formatting your finished copy, it is easy to both understand and use.
It is compatible with Microsoft Word, Apple Pages, and Adobe InDesign. To preview and purchase the template, click here.
The No-Nonsense Novel Template
This is another book writing template that is useful for beginners and first-timers. It is an extension of the basic novel writing template that comes in Scrivener by default.
the template isn't complex however it does offer some guidance in terms of structure and outlining. It contains sections for things like characters, settings, research, chapters, and scenes. In addition to these, it gives you a folder with a nine-point outline.
This basic but helpful template is designed for Scrivner and can be downloaded here.
The 30-Chapter Novel Template
This book writing template is a fantastic choice for first-time novel writers. While not every single novel is going to be 30 chapters, that number is a good average.
This template has a section for each of its 30 chapters already laid out for you.
Not only are they already created, but there are questions and thoughts to guide you through each chapter.  These prompts are designed to keep your story on pace and keep events happening where they should.
All the chapters set up for you with their corresponding prompts. This is helpful for first-time novelists who may struggle with structure. It can also help in brainstorming for your outline if you choose to create one.
The World Building Leviathan Template
This book writing template is designed with fantasy in mind. Writing a fantasy novel requires extensive world building.  A fantasy typically takes place in a realm or domain that is created entirely by the author.
This means that things such as physical laws, governments, and social classes need to be figured out. You also need to decide if you are writing a story about humans or other species. All of this is called world-building.
Building a world from scratch can be a terrifying and overwhelming thing to grasp. This is where the leviathan method comes in.
The leviathan method is simply a step-by-step look at your world. It asks you questions that create each piece of your new universe.
It is a comprehensive creation process, with a total of 52 steps. The steps and what they look like can be seen below: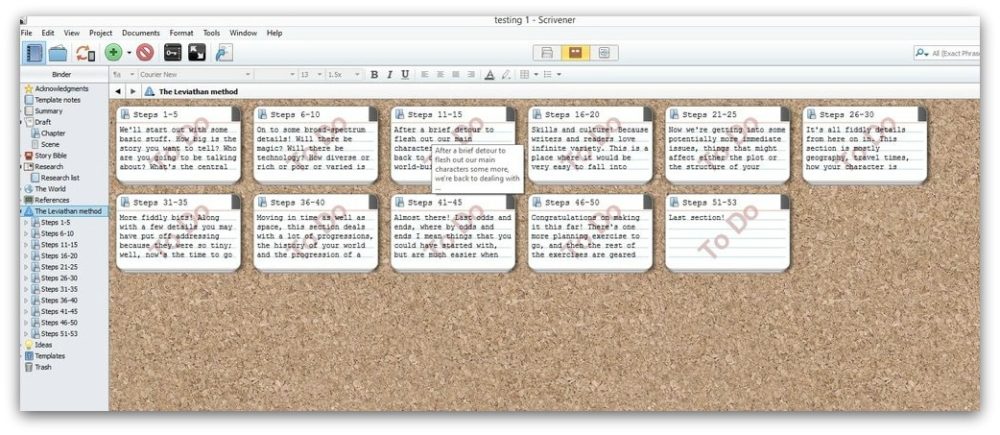 As you can see, there are also sections for a "story bible," characters, research, and more information on the world itself. A more complete world building template does not exist. This is where you want to be creating your fantasy.
Learning how to write a novel in the fantasy genre is an especially arduous task with all the different elements. This detailed and comprehensive template will take some of the pressure off.
It requires much time and effort, but it's a template that will give you a whole new world by the end of it. If you think you have what it takes to go through the entire leviathan method, you can download the template for Scrivener here.
For a simpler and more straightforward fantasy template, you can check this one out:
This template still walks you through a fantasy novel. But, it focuses more on creating a novel that has a good structure, with fantasy specific elements.
The Personal Template
You may decide that none of the existing templates are going to work for you. It can happen – everyone is different. If this is the case, you may consider creating your own template.
Studying the professional templates already available will give you an idea of what to include for it to be successful. You can consider things like outlines, acts, parts, and varying structures.
You can create a personal combination of all the elements and suit it to your project specifically.
It won't always be an easy task, but it may prove to be worth it in the end. You will be able to follow a guide that was curated especially for your book. If done correctly, this can help you create work that is truly fantastic.
You are never truly done learning how to write a novel. But, as you gain experience, you may be able to create successful templates of your own for others to use.
For a simple, generic guide to curating your own template, this example can be helpful:
This is an outline for a novel with no specific genre or style. It has some basic prompt for writing general fiction. You can easily add to this one and make it your own based on your book.
Factors to Consider When Choosing the Best Book Writing Template
Each template is different and you will need to decide which is right for you and your book. These are some factors to consider when making the decision.
Easy Navigation
Even in a large and extensive template, navigation should be easy and fast. There should be no delay or confusion when it comes to flipping from one chapter or section to another.
User-Friendly
A good template will be responsive and versatile.
It should be compatible with multiple devices and fit on multiple screen types and sizes. This ensures the maximum amount of accessibility among users.
It Should Have a Theme
The template you use should fit the theme of your book.
Don't try to use a nonfiction template for your novel. Using a world-building fantasy template probably won't work when trying to write a romance either.
More general templates can be good if you don't know exactly where your story is going just yet.
For example, you know you want to write a nonfiction book but you haven't chosen a topic yet. This general template will be helpful in sorting out the details:
You can easily add to this template to make it more specific for your book, once you figure it out.
Assess the Features and Abilities
Depending on the template's intended usage, the built-in features will differ. Make sure you understand the available features of your chosen template. Not every feature will work for every book.
A Template Which Supports the Right Tone
You want the template you choose to use the correct language. You want to tell your story in the proper voice. Find a template that works with the style of your book.
There is a difference in the way fiction and nonfiction are written. Find a template that agrees with what you are doing.
How to Use Book Writing Templates
Many templates are versatile and serve many purposes. However, they are generally used for either planning and outlining, or actually writing the book. Below are some tips for planning and writing your book with a template.
For the Planning of the Book
As a writer, planning is always of the utmost importance. You want to achieve a good result, and those don't come from thin air.
In addition to book writing templates, there are some other things you can do to collect and organize your thoughts. These methods are useful and effective when used in conjunction with your chosen template.
The Snowflake Method
The snowflake method is a specific process that is used to tell a story. There are steps to take and certain things you need to do to make it work.
This method is well-suited to writers who like to work in chronological order. If you like to start at the beginning and write straight through to the end, this method is for you. If you are interested, you can check out the detailed instructions we created for writing with the snowflake method here.
Track Your Story With Time
It is, of course, important to be aware of the plot of the story you are writing.
In addition to this, however, it is helpful to also consider the passage of time throughout your story. When planning the events of your book, note the time frame. How many days, months, years have passed?
Did this event happen in the morning or evening? This is a simple method that can help you keep track of where your characters are at all times. It will also help ensure you don't get timelines mixed up and overlapped.
Chapter Outline
This is a method of writing that goes well with the 30 chapter novel template mentioned above.
The idea here is to simply outline each chapter before beginning to actually write.
To do this, go through the plot you have created and break it down into individual chapters. Once you have done that, create an outline for each chapter. This can include potential scenes, events, important revelations, character developments, etc.
Of course, things can be changed along the way. This is just one way of getting an overview of your story as a whole.
Using Book Writing Templates to Create Your Storyline
While the use of an outline is widely debated, there is no denying the need for a good quality storyline. Outline or no outline, this requires extensive knowledge of your characters and the world around them.
Well-written and relatable characters will give meaning to your story and make it memorable for the readers. There are a few things you can do to ensure you keep track of your characters as well as develop them correctly.
Create a Master List
This may or may not be necessary depending on your cast of characters. Some books contain a small handful of characters, in which case a master list might be moot.
However, any story with a large number of characters – whether big or small – is at risk of getting them confused.
This is why it might be a good idea to create a master list and keep it somewhere accessible.
All you need to do is create a list of your characters and note a few identifiable features. Name, brief backstory, and role in the story should suffice. Keep this on hand in case you need to remember who someone is or what they are supposed to do.
Biographies
In addition to a master list, it may be worth creating short biographies for each main player in your story. Details of their past and their current life situation. This will help you keep everything straight in your mind, which will translate to consistency on the page.
Readers will pick up on holes and inconsistencies in your character's stories in no time if you allow them to be there.
Character Development Sheet
A character development sheet is something that should be done for your protagonist as well as all the other main characters.
All this entails is a list of every attribute or characteristic the character possesses. Even small things that may never appear in the story can be important in you knowing who the character is at the core.
This knowledge, even if not mentioned in the book, can be helpful in figuring out how a character would react or what they would do in a situation. This will help you create the most believable and authentic story possible.
Your readers will love a character that so closely resembles a real person.
Do Your Best Work With Book Writing Templates
If you are struggling to write your book or just want to get done faster, you can never go wrong with a book writing template. They are there as a guide and are by no means set in stone. In addition to helping you create your book, they really want to help you learn how to become a better writer.
The template you find might be a perfect fit for your book. You may find yourself making zero changes.
Or, there might be a template that you love, but it needs tweaking to fit your project. This is fine too.
While these templates are some of the best, the options really are endless. So, open up your favorite book writing software, grab your template, and get to work!