If you have a product that requires additional information in the form of a technical document, you need technical documentation software. Technical documentation isn't required for all types of businesses. For example, if you are running a leading blog, you might not need any technical writing. However, if you are an owner of a B2B SaaS company, you need to write and share the right technical documentation with both your internal and external customers.
As your business grows, you'll need to develop different types of technical documentation content for both of your customers such as user manuals, product documentation, API documentation, technical documentation for SDLC, and even knowledge bases.
Writing, managing, organizing, and storing all types of technical documentation requires assistance from software and tools. You can't do it manually. Technical documentation software provides you full control over all the technical documentation that your business owns.
We compared and analyzed all the popular technical documentation software and reviewed the best software for different categories. You don't have to spend time on finding, listing, comparing, and then identifying the right technical documentation software for your business.
Save time and jump to the list below and get started immediately.
Best Technical Documentation Software
Here is a list of the best technical documentation software we analyzed and reviewed:
Below we have reviewed the best software for different categories and business needs that you might have:
Adobe RoboHelp: Overall Best

Adobe RoboHelp is the best technical documentation software ideal for authoring and publishing technical documentation content. It is the most used help and technical writing tool globally. It supports HTML5 and CSS3 and lets you create highly engaged and interactive content. This is a core reason why businesses prefer using Adobe RoboHelp because it lets you simplify complex technical processes.
It allows you to create and use your own JavaScript plugins and scripts to perform complex tasks in RoboHelp. This is indeed a time-saver and a productivity booster for a technical writer. 
Technical writers can easily collaborate when authoring rich technical documentation. It supports version control and has a powerful reviewing feature that lets your team invite reviewers and experts by assigning them specific tasks. Here is what the collaboration interface looks like: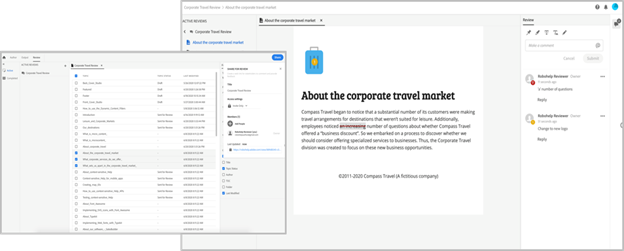 You can publish content in different formats including PDF, HTML5, CHM, and even mobile apps. So, your technical documentation isn't just blocks of text rather you can create interactive manuals that aren't just easy-to-read but cross-device accessible.
Adobe RoboHelp covers the end-to-end technical documentation authoring and publication process by offering you the following services: Authoring, migration, reviewing and collaboration, enriched content, translation, and management.
Key Features
Here is a list of the key Adobe RoboHelp features:
Minimalist and web-based user interface that can be used easily by anyone

Ability to create scripts in JavaScript to automate workflows

Import content from a wide range of tools and platforms in several formats including HTML, Microsoft Word, markdown files, and others

Supports micro content snippets, content reuse, cross-referencing, HTML5, and CSS3

Supports technical writing in a wide range of content types including text, images, videos, text effects, audio, vectors, SVG, and more

Online review system with track changes makes the author and reviewer collaboration easier and fun

Supports automated machine translation

Choose from a wide range of templates to customize content and outlook

Publish technical documentation content in different formats including frameless responsive HTML5, Microsoft Help, PDF, and others

You can integrate technical process documentation with chatbot interfaces in the form of micro-content

Integrates with a wide range of third-party apps and tools such as Azure DevOps, Microsoft SharePoint, Git, Zendesk, Salesforce, and more.
Pricing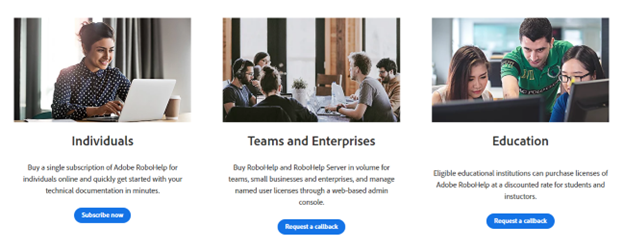 Adobe RoboHelp offers a wide range of plans and there is something for everyone. The Individual plan starts from $29.99 per month with a single user seat. If you need more seats, you'll need to switch to an upgraded plan. There are two plans for teams and enterprises: Term Licenses and Subscription Licenses.
The Subscription Licenses are suitable for small businesses and teams where you'll pay a monthly subscription fee on the basis of the number of seats. The Term Licenses is suitable for enterprises that give you full access to RoboHelp cloud and desktop products. The plan is for 3 years with annual payments.
The Education plan is for educational institutions at a 60% discount.  
The actual price depends on the number of users and features needed. You need to contact Adobe to get a quote based on your requirements.
Pros
Here are the best things about Adobe RoboHelp:
All-in-one technical documentation software suitable for businesses of all sizes

Integrates with all the leading tools and apps seamlessly

30-day free trial.
Cons
Here is what I don't like about Adobe RoboHelp:
High learning curve. You need to train your technical writers and editors so they can use the software to its full capacity

Basic knowledge of HTML and CSS is mandatory for technical writers.
MediaWiki: Best Free Technical Documentation Software

MediaWiki is the free and open-source documentation software that's used globally for wikis, technical writing, and knowledge bases. It is the platform that powers Wikipedia and if you use MediaWiki for the creation, publication, and hosting technical documentation, the output will be similar to Wikipedia.
It has a visual editor that looks like this: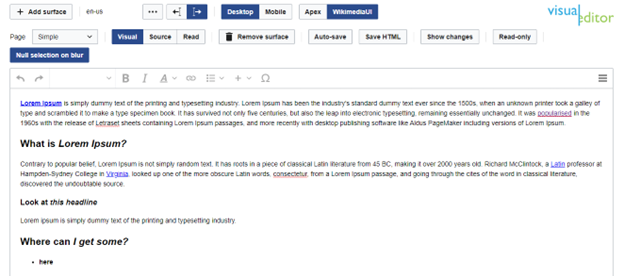 The editor is simple and familiar. Getting started with it isn't an issue, however, if you want to get the most out of it, you'll need to use PHP extensions. You can do pretty much anything and everything with the help of extensions that are freely available or your developers can create custom extensions for specific tasks.
It is suitable for content creation and collaborative editing for large teams. The larger the team, the better. This is because it requires maintenance and if you have a small team of technical writers and editors, it will get too hectic for them to manage it. 
The best thing about MediaWiki is its customization. You can create skins and user styles based on specific needs. The flexibility allows you to take full control over the authoring, editing, publishing, and management of technical writing.
Key Features
Here is an overview of the top MediaWiki features:
An open-source and free technical documentation software

It is flexible and customizable to a great extent

History and edit track with version control

Visual editor to simplify the writing and editing process

Talk pages let users and editors collaborate when working on a project

Gives you full control over managing permissions and user roles

Edit conflicts and simultaneous editing are managed automatically

Extensions let you add all sorts of functionalities across all verticals

Import data from files and output is HTML5 compatible

Auto-generation of headings and table of content

Visual editor works on both mobile and desktop

Available in several international and local languages.
Pricing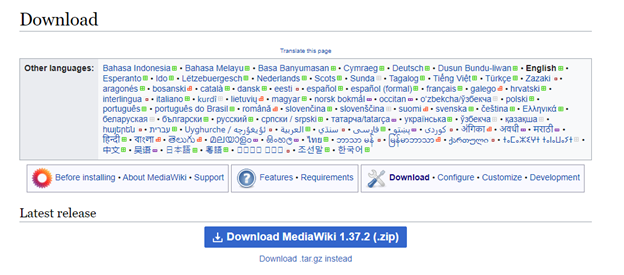 MediaWiki is free as it is open-source. You can download the latest version here. There are no plans or strings attached to it. You can use it for free.
Once you have downloaded and installed it on your computer, you need to configure and customize it. This is where you might need to spend money. It isn't the easiest tool out there and you might need help from a few experts.
Pros
Here is what I like about MediaWiki:
Free and open-source technical documentation software

Extremely flexible and fully customizable. You can tweak it as per your needs

Offers a lot of features and extensions that make it an ideal software for a large team of technical writers, reviewers, and editors.
Cons
Here is what I don't like about MediaWiki:
High learning curve

Suitable for large teams as it needs maintenance which gets challenging for small teams.
ProProfs Knowledge Base Software: Best Features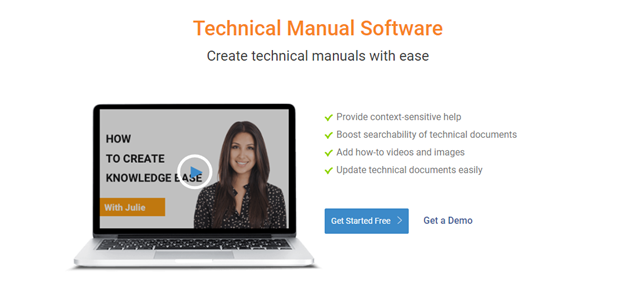 ProProfs is a great knowledge base software that's ideal for creating technical documentation and user manuals. It offers cutting-edge features that simplify the process of authoring, managing, and publishing technical writing for both of your customers.
It is an award-winning knowledge management software having several awards under its belt including Top Rated Knowledge Management Software Softwareworld, Quality Choice Knowledge Base Solution Crozdesk, The Most Trusted Vendor Awards Crozdesk, and others.
So, what makes it an award-winning technical documentation software?
It offers a wide range of features and is fairly easy to use as compared to most of the other tools on the market. You can grab a template, customize it, add content from different sources, and publish it. This makes it one of the easiest software because you can start immediately with little or no training.
Here is an example of a template: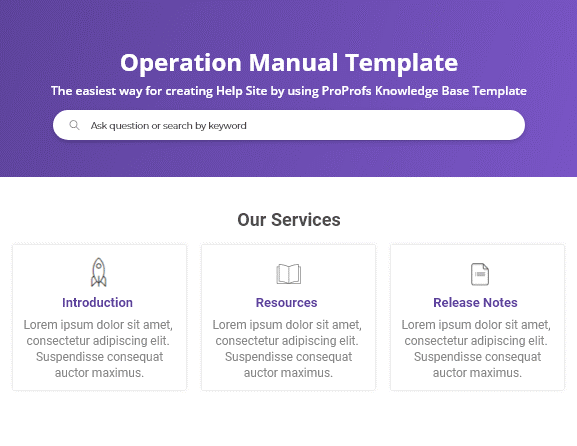 ProProfs lets you add images, videos, and interactive content that works best for technical documentation. Your technical writers and reviewers can collaborate, assign tasks, and create workflows for automation.
Key Features
Here is an overview of the major ProProfs features:
An intuitive technical documentation software with an easy-to-use editor for content creation

Supports technical writing for both internal and external customers

Offers templates and branding features to customize your knowledge base

Rich text editor with support for videos and images

Revision history and version control make authoring and editing easier

Workflow automation and complete user management with the ability to set roles and permissions

The knowledge base has a search feature similar to Google that makes it easier for readers

API integration lets you connect your software with leading tools and platforms

Advanced reporting and analytics to measure the performance of technical writing

Full support for mobile, tablet, and computers.
Pricing
ProProfs offers 3 plans each for public and private knowledge bases. It offers a subscription pricing model based on per author and use account.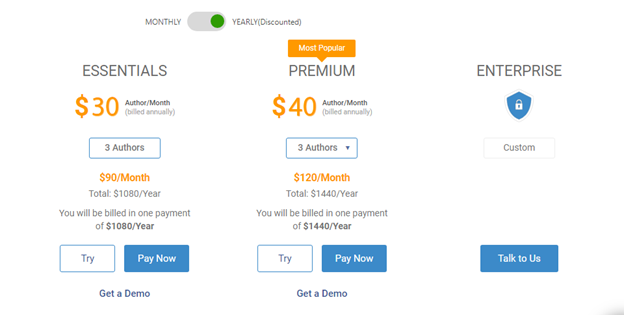 The starting price for the public knowledge base is $30 per author per month for the Essentials plan. This plan doesn't offer roles, collaboration, workflow approvals, and several other advanced features. You'll need to switch to the Premium plan to get access to all the features. The starting price per author per month for the Premium plan is $40. The Enterprise plan has custom pricing and is suitable for businesses that need more than 10 author accounts.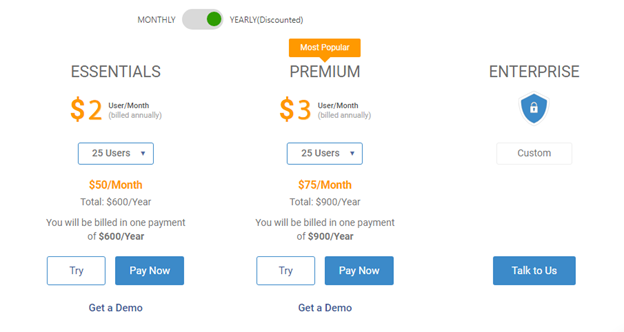 The private knowledge base is ideal for internal customers. The Essentials plan has a starting price of $2 per user per month and you get access to limited features. The Premium plan gives you access to all the features and services and is priced at $3 per user per month. The Enterprise plan is suitable for large businesses that need more than 150 user accounts with access to enterprise features like custom license and enterprise security.
Pros
Things that I like about ProProfs:
Feature-rich and easy-to-use platform that allows creating documents easily

Integrates with popular software and tools

Free trial and 15-day money back guarantee help you explore the software risk-free.
Cons
Here is what I don't like about ProProfs:
Not scalable despite its Enterprise plan as it is more suitable for small to mid-sized businesses

Adding more templates will make it much better than what it is now.
HelpNDoc: Best for Small Businesses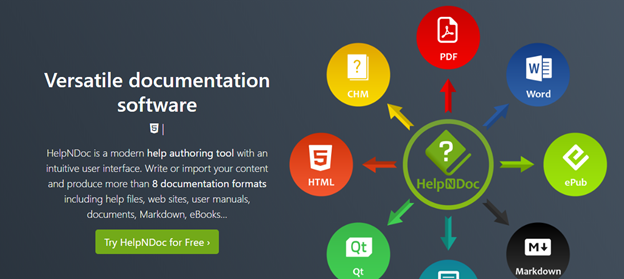 Are you a small business owner and interested in technical documentation software that's specifically made for small businesses? HelpNDoc is the perfect solution for you.
HelpNDoc has an intuitive interface similar to Microsoft Word that makes it exceptionally easy to use. You don't have to train your team and this saves a lot of time and resources. Here is what the interface looks like: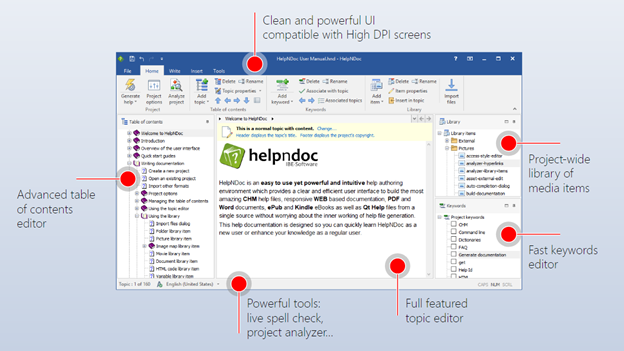 It supports project libraries, CHM help file generation, and a powerful editor. You can create a wide range of technical document content (e.g., software product development documentation, quality assurance documentation, hardware and software requirements, etc.) in different formats with HelpNDoc including PDF, Qt Help, responsive HTML, and codes for several languages such as C and C+ +. You can create and design your templates to get started quickly which makes it extremely easy to create system documentation in minutes.
HelpNDoc covers end-to-end document creation for businesses with a focus on multi-format document generation and strong integrations.
Key Features
Here is a list of the HelpNDoc features:
A simple, effective, and intuitive user interface

Feature-rich editor with media library

Supports spell check and project analyzer

You can create technical documentation in several formats including responsive HTML websites

Gives you full source code of the output file to customize it as per need

Automate repetitive tasks via the script editor

You can create reusable variables to boost productivity

Allows you to work with different programming languages and you can create your own source code and template for later use.
Pricing

HelpNDoc offers two types of licenses: Named License and Floating License. The Named License is for individual use while the Floating License is for multiple users. All the plans come with a one-time fee and this makes it ideal for small businesses because you don't have to pay recurring charges.
The Free gives you access to all the features forever but it can't be used commercially. It is suitable for testing purposes and personal use. If you are a technical writer, you can use the free version for testing purposes. If you want to use it for your business, you need to go with the Standard or Professional Floating plan.
The Standard plan costs you a one-time fee of €249. You get access to all the features except CHM and HTML documents. If you need CHM and HTML documents, the Professional plan priced at €749 is ideal for you.
Pros
Things I like about HelpNDoc:
An effective technical documentation software for personal and business use

Supports a wide range of output formats including several languages

There are no recurring charges and it offers a free plan.
Cons
Things I don't like about HelpNDoc:
Offers limited features and functionalities

Lacks integration with other tools and platforms.
Confluence: Best for Internal Teams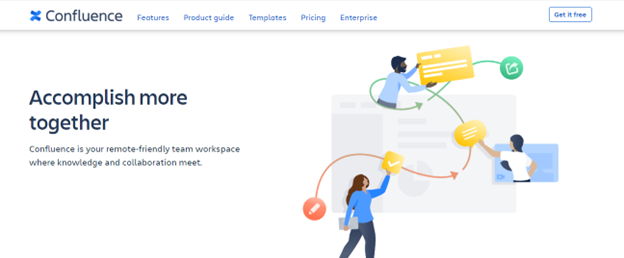 Are you looking for technical documentation software for your internal teams? Confluence is the best tool for creating and managing technical documentation for your employees. It comes with ready-to-use templates for your teams. Pick a relevant template, customize it, and you are all set to share technical details and manuals with your workforce.
One of the key aspects of Confluence is its collaborative features. It supports real-time editing with co-edit, version history, and tracked changes features. Your team can comment and tag on pages and projects. And this helps you create a knowledge base quickly as several team members can work on a single project simultaneously without messing anything up.
You can share technical writing with the relevant teams once they're prepared by setting the right permissions. It supports both technical documentation authoring and publishing along with powerful project collaboration.
Key Features
Here is a complete list of the top Confluence features:
A robust technical documentation software and knowledge base platform for internal teams

More than 75 customizable knowledge base templates to choose from with a focus on software development templates for software engineers

Advanced collaboration features including commenting, tagging, co-editing, version control, track changes, and several others

Ability to control changes and new releases

Permission setting feature to control content viewability and security

Page versioning and macros simplify the documentation process for a technical writer and reviewer

Analytics provide you with detailed page insights that help in decision-making

Sandbox feature allows you to test software development before making live changes

Integration with leading tools including Jira.
Pricing

Confluence charges you on the number of users and is suitable for large businesses and enterprises as it supports over 20,000 users. Small businesses can use the Free plan that's free for up to 10 users. The plan offers you basic services and features including app integrations at no cost.
The Standard plan costs $5.50 per user per month. You get access to limited features and restrictions. The Premium plan costs $10.50 per user per month and gives you full access to all the features and services. You can add up to 20,000 users to the Premium plan.
The Enterprise plan has custom annual pricing and offers you advanced enterprise features such as Atlassian Analytics and centralized per user licensing.
These are all cloud-based plans and if you want to install Confluence Data Center on your business server and hardware, you can switch to the self-managed solution with a starting price of $27K per year for up to 500 users. You can try Data Center for free on your servers by downloading Confluence here.
Pros
Here is an overview of the promising benefits of Confluence:
Amazing and effective technical process documentation and team collaboration tool

Scalable at all levels and ideal for businesses of all sizes

7-day free trial for up to 10,000 users.
Cons
Here are a few things you might not like about Confluence:
It requires staff training which adds to the cost

The software needs to add more features and requires flexibility. For example, it doesn't show you editing changes in real-time.
MadCap: Best for Technical Content Authoring

One of the key challenges faced by businesses is technical writing. The idea is to make the technical documentation process simple so the audience can understand them. Technical content authoring gets a whole lot easier with MadCap.
It offers 3 different solutions for content authoring, management, and publication:
MadCap Flare

is ideal for technical documentation authoring for a technical writer(s) and teams

MadCap Central

offers cloud-based content editing and publishing

MadCap AMS

offers you complete authoring and a robust content management system for the entire content lifecycle.
The content editor is exactly like Microsoft Word but with more features such as review workflow, team collaboration, interactive demos and videos, visual editor, split view, and more. Here is what the editor looks like: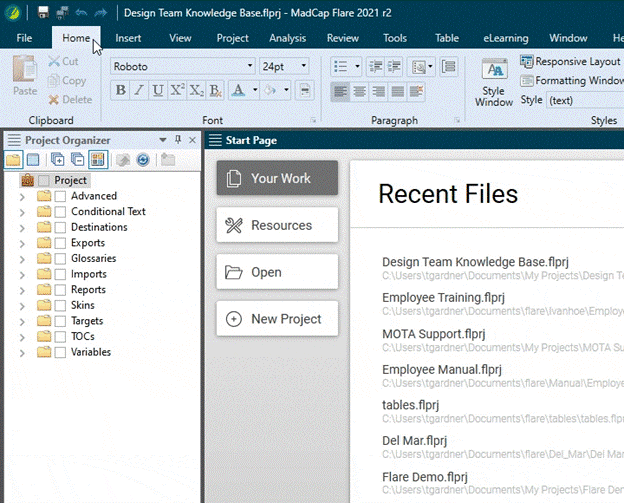 And here is the reviewing interface: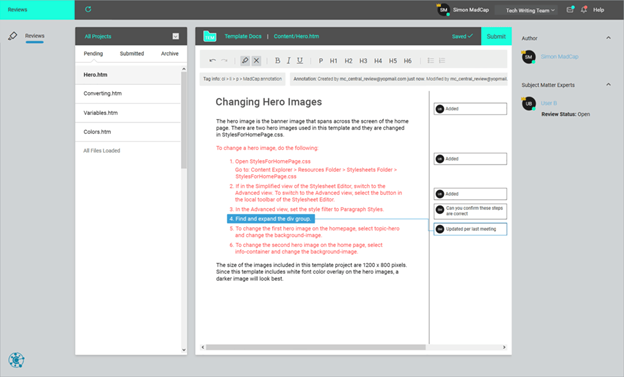 As you can see, it offers a comprehensive content authoring and reviewing interface that covers all the aspects of technical documentation software.
Things get interesting when you switch to MadCap AMS as it offers all the exciting features that cover the complete technical documentation lifecycle. Here is a glimpse of the main services you should expect:

It begins with content import and content authoring, moves to content review, and then multi-channel publishing followed by actionable analytics.
Key Features
Here is a list of the top MadCap features:
A comprehensive technical writing and publishing platform with the ability to hosting technical documentation

Intuitive content editor and authoring tool that's easy-to-use

Offers technical documentation and technical writing templates and the ability to import documents from a wide range of tools and apps

Support for rich media that helps you create interactive and visually pleasing technical documents

Several advanced features to collaborate on content authoring and reviewing including review workflow and multi-authoring

Translate content easily with machine translation integration and suggestions

Publish content in several forms including HTML5 responsive websites, PDFs, WebHelp, DITA, and more

You can publish content for the learning management system and learning record stores easily with a few clicks

Real-time analytic and actionable help feature simplifies identifying issues and bugs

Available as both cloud and on-premises solution

Integrates with all the leading tools, publishing platforms, and knowledge base software.
Pricing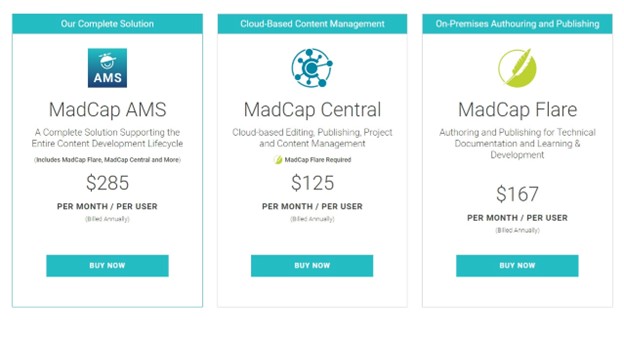 MadCap has a per user per month pricing strategy and the price depends on the solution you are interested in.
The MadCap Flare is the basic on-premises authoring and publishing solution that costs $167 per user per month billed annually. It gives you access to all the authoring, editing, reviewing, and publishing features.
The MadCap Central is a cloud-based solution that costs $125 per user per month. It isn't a standalone software; rather it requires an active MadCap Flare subscription. If you need cloud-based authoring with MadCap Flare, you'll need MadCap Central.
The MadCap AMS is the complete solution that includes both Madcap Flare and Central and other services such as subject matter expert seats and translation management. A single user seat costs $285 per month with annual billing.
Pros
Here is what I like about MadCap:
Comprehensive technical content authoring and publishing system with lots of tools and services

A lot of features, services, and power tools that are hard to find with other technical documentation software and authoring tools

Offers both on-premises and cloud-based software solutions making it flexible and secure.
Cons
Here is what I don't like about MadCap:
It is expensive. Even if you stick with the basic MadCap Flare, it still costs a lot per user. You'll need to reduce the number of seats to make it cost-effective if you are tight on budget.
Create Technical Documentation with the Right Software
We identified the top technical documentation software across 6 categories from a list of more than 25 software and platforms. You can go ahead and use the software that's right for your business.
For example, if you are interested in technical documentation software with the best features, go with ProProfs. Or, if you are looking for a budget-friendly platform, stick with MediaWiki.
The thing is: There is something for everyone.
You need to be sure of your business needs. And then pick the tool that best meets those needs.