Are you looking for the best healthcare document management software?
Then you came to the right place. Almost all healthcare businesses need document management too.
Why?
Because the amount of paperwork a healthcare business has to deal with on a daily basis is enormous. Be it a large-scale government hospital, a private clinic, a pharmacy, or a local therapist, you can't do business without paperwork. And to do it efficiently, you need a document management system that organizes, stores, and makes documents accessible across all devices.
Document management makes your workforce more productive and efficient as they won't be wasting time on finding missing documents. It is estimated that we spend as much as 6 months of our lives finding missing documents.
To help you switch to a document management system, we critically analyzed the top healthcare document management software and reviewed the best ones across different categories.
Best Healthcare Document Management Software
Here is a full list of all the document management platforms ideal for the healthcare sector:
The detailed reviews of the best platforms are covered below:
M-Files: Overall Best

M-Files is the best document management software that's ideal for a wide range of industries including healthcare. It offers complete document management, policy management, and contact management system for your business. It has the potential to cope with diverse business needs and is fully scalable.
It has a simple user interface that looks like this: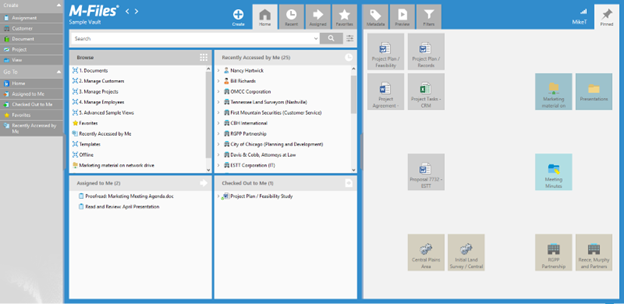 You don't have to spend a lot of time training your workforce because the interface is similar to the Windows operating system. But yes, it requires staff training to make the best of the software.
The best thing about M-Files is its project management and client collaboration services. Your teams can work on content and documents painlessly and the same can be shared with customers. It lets you provide a full digital experience to your customers without any involvement in paperwork.
It provides you with enhanced security and full control over documents and content. Access to documents automatically changes when user accounts aren't active anymore. Additionally, you can track all the activity with logs and details.
Key Features
Here is a list of the top M-Files features:
A multipurpose end-to-end document management system that works exceptionally well for healthcare companies

Available as both cloud and on-premises platform

It uses artificial intelligence for document storage and search

Automatically labels documents based on key metadata information such as customer name

Documents are synced in real-time with no duplicate copies. You always get access to the latest document

Powerful collaboration feature with automated workflows simplifies task management

Advanced permission and security features that let you set roles and assign permissions

Version control, audit trail, electronic signatures, file recovery, file conversion, and customizable templates are some of the top features

It works with leading content and document tools such as SharePoint, Outlook, Google Workspace, and others. You can import documents from your existing platform with a few clicks

Advanced API integration lets you connect M-Files with all the tools you are using

Your team can access the interface on desktop and mobile with offline access

Industry regulation and compliance support.
Pricing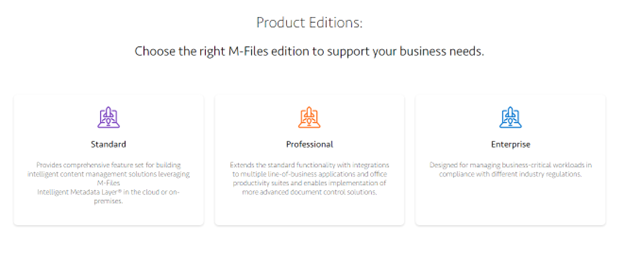 M-Files has a subscription-based pricing model and it offers 3 plans: Standard, Professional, and Enterprise. The pricing details aren't available on the website, you need to contact them with the number and type of users you need (e.g., concurrent named, and read-only) and other requirements to receive a quote.
The Standard plan offers basic document management services with limited features. It is more of a content management system that lacks integration and advanced features. The Professional plan is best if you need integration and full access to all the services and platforms. The Enterprise plan is suitable for large-scale healthcare businesses that cover industry regulation and compliance.
M-Files offers a 30-day free trial of its cloud software. You can fill out a short form here to get access to the trial. It helps you get a better idea of how it works.
Pros
Things I like about M-Files:
Feature-rich and multipurpose document management software that is suitable for large healthcare businesses

Offers API integration for linking it with other tools in your tech stack

30-day free trial and demo help with decision-making.
Cons
Here is what I don't like about M-Files:
It requires staff training as it has a significant learning curve

Setting up and implementation (especially for on-premises) is a hectic and time-consuming process.
Folderit: Best Low-Cost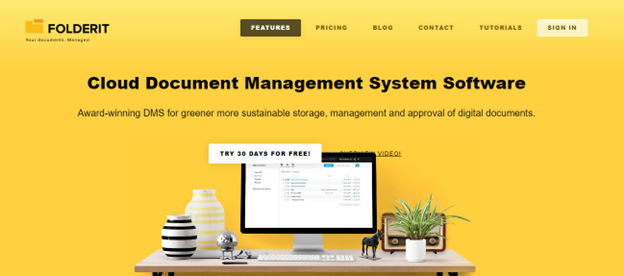 If you are looking for a low-cost and budget-friendly healthcare document management system, Folderit is the best choice for your business. It is an award-winning platform that features a simple, secure, and cost-effective solution to managing documents.
It comes with an intuitive user interface that is available on both desktop and mobile. Here is what it looks like: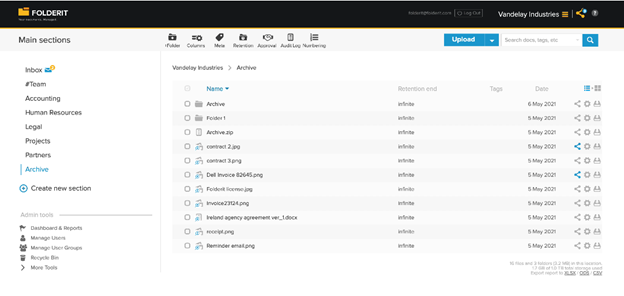 It manages folders and files in a non-complicated manner. The approval workflow is the best feature as it helps approve documents before they're moved to the next person. This is exceptionally helpful in the healthcare sector where a single document has to go through several departments with or without approval.
Document numbering is a cool feature that lets you automatically number documents based on customer-defined rules. This simplifies document management and organization when you are generating hundreds of documents a day e.g., patient reports. 
Key Features
The major Folderit features are:
A simple and easy-to-use document management software for small and mid-sized healthcare businesses

Intuitive user interface that works on desktops, tablets, and mobile devices

Multilingual optical character recognition helps you search documents based on the file's content

Powerful document management and organization features such as tags, notes, and custom metadata

Automatic document numbering and notifications save a lot of time

Audit trails and file versions simplify collaboration and teamwork

Automatic import documents from email

Advanced security with SSL layer and 2FA coupled with governance rules give full control over document management

Ability to locally backup documents

Integrates with third-party apps including Office 365, DocuSign, and others

Free trial available to test the software.
Pricing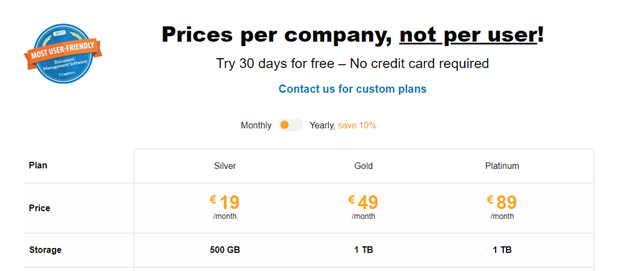 Folderit is extremely cost-effective and the reason is its pricing structure. It doesn't charge you based on the number of users, instead it charges a fixed subscription price per company with a starting price of €19 per month.
It offers 3 plans: Silver, Gold, and Platinum.
The Silver plan offers access to basic features which is suitable for up to 20 users. The price per month is €19 per month. The Gold plan is priced at €49 per month with support for up to 50 users. It gives full access to all the features and products including approval workflow and document numbering.
The Platinum plan is ideal for large teams as it supports the collaboration of up to 200 users with priority customer support. It is priced at €89 per month and offers all the same features as the Gold plan.
Pros
Things I like about Folderit:
Easy to use document management software with a clean user interface

Offers a wide range of features with powerful integration

30-day free trial is helpful in decision-making.
Cons
Things I don't like about Folderit:
Not scalable as it is more suitable for small and mid-sized healthcare businesses.
DocuWare: Best for Large Businesses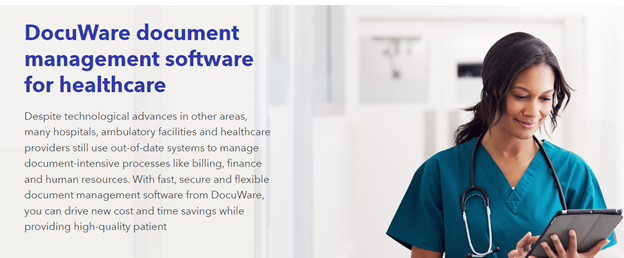 If you are looking for document management software for a large healthcare business, DocuWare is your best option as it is suitable for large businesses like Mercy Health Network. DocuWare is a leading solution for managing documents and it provides tools and features for the healthcare sector. Prescription management and medical credentialing features help improve efficiency and workflow.
It has an intuitive and feature-rich drag-and-drop user interface that has a lot of capabilities. Here is what it looks like: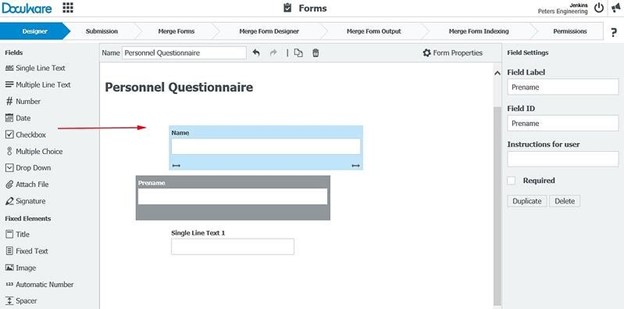 You can create forms and documents easily with the drag-and-drop builder. It allows you to collaborate and increase productivity by storing patient information electronically via such eforms and assigning tasks to relevant individuals. You can restrict people from viewing and sharing confidential files and records.
DocuWare offers advanced security that helps you keep data safe. It encrypts documents and automatically adds a retention schedule so confidential documents aren't compromised. You can create security guidelines based on your specific requirements such as setting user permissions and roles.
Key Features
Here is a list of the top DocuWare features:
A powerful document management software for healthcare businesses

Available as both cloud and on-premises solution

Offers healthcare-specific tools such as prescription management

Automatically indexes documents and organizes them for you

Full-text indexing makes the search process easier as you can use any text from the document to find it

Import documents from a wide range of apps and tools including Outlook

Supports digital editing with annotations and stamps

Workflow automation lets you create customized workflows for different teams using drag and drop interface

Supports versioning, electronic signature, and image correction

HIPAA, GDPR, and other regulatory compliance support

Control access by defining and creating the permission structure for your organization

Your team can access documents from different devices including mobile and desktop

API integration lets you connect it with third-party tools and apps.
Pricing
It offers custom pricing depending on your needs and what type of solution you need: Cloud vs. on-premises. You can download the cloud version of DocuWare here which is free to use for 30 days. It will give you a nice idea of how it works.
Once you are ready, you can request a quote based on the type of software you need, requirements, number of users, and list of tools and features. The on-premises solution is more secure and suitable for large businesses while cloud-based software is ideal for healthcare businesses with limited needs.
The starting price is expected to be at least $300 per month for cloud software. DocuWare offers implementation services and support which means they can help you in setting up everything for an on-premises solution.
Pros
Things I like about DocuWare:
A comprehensive and scalable document management system for large businesses

Advanced features and security

30-day free trial.
Cons
Here is what I don't like:
Requires staff training. The interface is easy but can't be used at full potential without guidance

On-premises implementation is time-consuming and requires a lot of backend work.
OpenDocMan: Best Free Software

Most healthcare businesses prefer using open-source and free document management software as they're more interested in testing and cost-cutting. If this is what you are interested in, the best open-source document management system for the healthcare sector is none other than OpenDocMan.
It is a web-based software that's written in PHP which means it is exceptionally easy to customize it by adding your own scripts and functionalities. It offers all the functions that you'd expect from a decent document management software such as a centralized file management system, advanced document search, workflow automation and management, security protocols, and API integration. It misses nothing.
The user interface is quite simple and easy to use but it has an old look. It gives a feel of software from the 90s but it is OK as long as it gets the job done: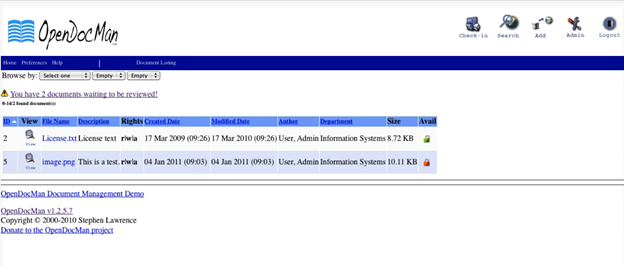 Automatic workflow with several document management features like revision history, file expiration, and collaboration makes this free document management solution a great platform for healthcare businesses of all sizes.
Key Features
Here is a list of the primary OpenDocMan features:
A free open-source document management tool that allows you to keep files organized at no cost

Developed in PHP making it customizable and easy to develop

It works on all types of computers without any specific server requirements

Plugins and scripts help you add more functionalities to the software

Supports unlimited users without any restrictions

Supports multiple languages

Works with all file formats without any requirement of FTP

Assign tasks and documents to relevant teams and individuals

Checkout feature, file expiration, and revision history help your team in the editing and reviewing process

Advanced search allows users to find documents easily and quickly

Automatic document reviewing process by creating your own workflows

Offers several features to define user permission and control user access

Gives you full control over security and user management

Integrate with leading tools and apps in your tech stack.
Pricing

Being open-source software, OpenDocMan's basic community version is free. However, it does offer paid plans with better features, customer support, and additional services. There are 4 plans to choose from: Community, Enterprise, SecureDocMan Cloud, and SecureDocMan On-Prem.
The Community plan is the free on-premises version that comes with unlimited users and basic features. The Enterprise plan gives you access to additional features in the on-premises install such as a dashboard, automatic updates, audit trail, and more. You can get a quote from the official website.
SecureDocMan is the paid version of DocMan that offers cloud and on-premises plans. It is a better version of the software that is instantly available for use. The Cloud plan has a starting price of $79 per month with unlimited users while On-Prem is the on-premises version with better features and custom pricing.
Pros
Here is what I like:
Free document management software with a lot of features

Easy to use and manage as it works on all types of devices

Supports unlimited users.
Cons
Things I don't like:
The free version provides basic features only

It is hard to get training with the free version as you'll need to look for support via forums.
PDFelement: Best for Small Teams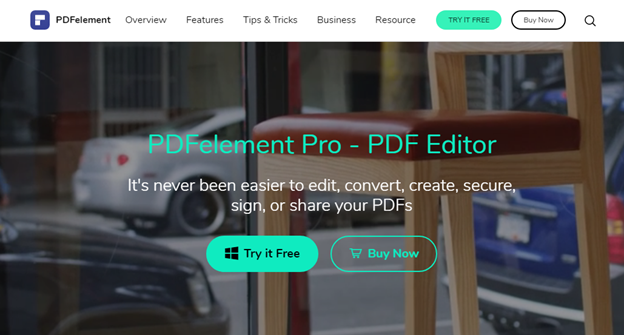 Not all businesses need advanced document management software. A lot of small healthcare businesses prefer simple yet sophisticated document management platforms that let them manage files without spending heaps of money on training and maintenance. If you are interested in this type of simple yet effective solution to managing documents, PDFelement by iSkysoft is a perfect fit.
As the name suggests, it is a PDF document management software that offers some of the best features related to PDF. It has a powerful PDF editor that gives you full control over PDF editing. Here is what the interface looks like: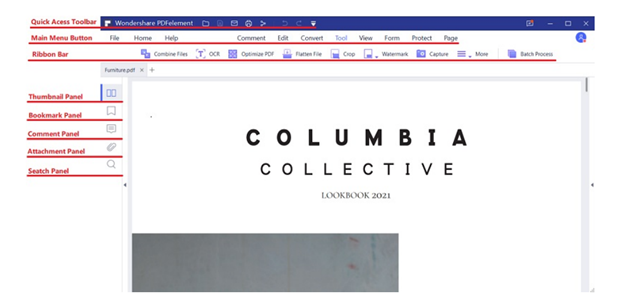 The user interface is simple yet intuitive. It has a similar appearance to Microsoft Word. It offers editing PDFs, annotations, conversion, and security features. It doesn't just work with text rather it helps you with image editing and pages too. It offers a complete suite to deal with all types of PDFs whether these are digital or scanned.
The best thing about PDFelement is its form creation feature which is ideal for healthcare businesses. You can quickly create PDF forms for collecting patient data.
Key Features
Here is a list of the major PDFelement features:
A simple and easy-to-use PDF management tool for small healthcare businesses with limited needs

Works with both digital and scanned PDFs

Data extraction from forms and scanned PDFs

Advanced OCR lets you edit scanned files easily

Ability to add customized forms in PDFs for data collection

Notes and annotation support help improve collaboration across teams and individuals

Edit PDFs like traditional word documents hassle-free

Advanced document protection features such as passwords and redaction

A wide range of PDF editing tools including drawing, digital signatures, highlights, images, stamps, and more

Works with images, forms, and pages seamlessly

Available for Windows, Mac, iOS, and cloud.
Pricing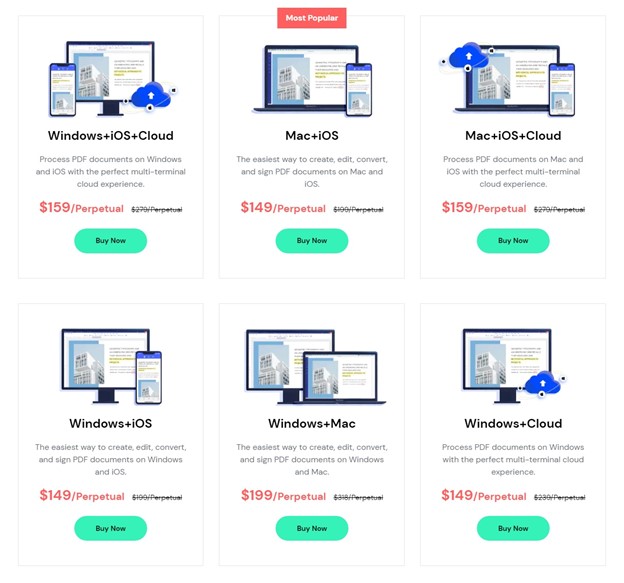 The PDFelement offers plans for both individuals and teams. The team plans are priced on a per user basis and you need to choose Windows or Mac or both for your business. The licenses offered are of two types: Yearly and Perpetual.
Both licenses offer the same features with full access to the software. The Yearly license starts at $109 per user per year while the Perpetual starts at $139 per user once. 
If you can afford it, a perpetual license is ideal as it gives you complete access for life to the software with a one-time payment. You'll need to buy separate licenses for Windows and Mac.
If you have more than 20 users, you can request custom pricing.
Pros
Here is what I like about PDFelement:
Easy to use document management software that's best for PDFs

Works with all types of PDFs including scanned ones

Offers 30-day free trial and 30-day money back guarantee.
Cons
Here is what I don't like about PDFelement:
Works with PDF documents only and doesn't support other document types

Lacks scalability.
ServiceNow: Best Multipurpose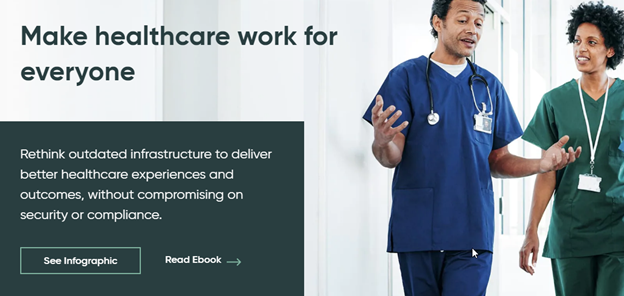 If you are interested in using a system that goes beyond document management and covers all the aspects of your healthcare business? You should go with ServiceNow. It is focused on transforming all business operations and isn't just limited to document management.
It connects all the business processes and stores and organizes documents in a centralized location so they're accessible to everyone at the right time. It offers tools to engage with clients and employees at the same time. It is a complete 360-platform that covers all the key areas of your business.
The user interface isn't easy to use but it is intuitive and feature-rich: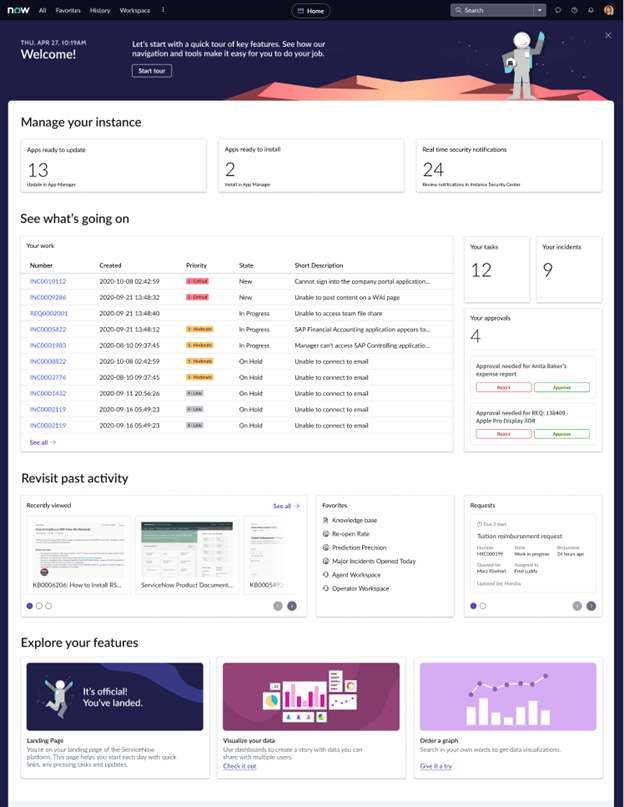 You can manage different types of workflows with ServiceNow software including IT, customer, employee, and creator. It allows your customers to access reports and make requests based on their condition from the customer portal. Once a request is generated, it is added to the relevant workflow and your employees can then start working on it. So, it covers all the aspects of a healthcare business.
It offers a wide range of healthcare tools such as pre-visit management, patient support services, vaccine administration management, consent management, document management, a paperless environment, and more. You get everything pre built and ready to customize and use with ServiceNow. 
Key Features
Here is a list of the top ServiceNow features:
A robust healthcare management software that offers a lot of helpful tools

Offers platforms for both customers and employees

Advanced document management solution that's ideal for healthcare businesses

Intuitive interface to manage everything from a single dashboard

Automated workflow improves collaboration and process management across departments and teams

Authorized document access with encryption giving you full control over user management

Document storage, extraction, recovery, and AI-based search

Version control, data mapping, AI search, and advanced workflow for document management

A powerful 360-degree patient view is accessible to all the employees

Ability to create a customized dashboard for patient care

The platform generates alerts and suggests automation of repetitive tasks

Customized agent workspace improves productivity as your employees get to see everything from a single dashboard

Self-service care portal for patients where they can get help and check all relevant details

Machine learning helps you improve productivity through predictive intelligence

Patient management gets easier with the help of case management, patient 360, pre-visit management, and several other tools

Advanced performance analytics help forecast trends and improve decision-making

The software works on all types of devices seamlessly

Integration hub lets you connect your platform with other tools in your tech stack hassle-free.
Pricing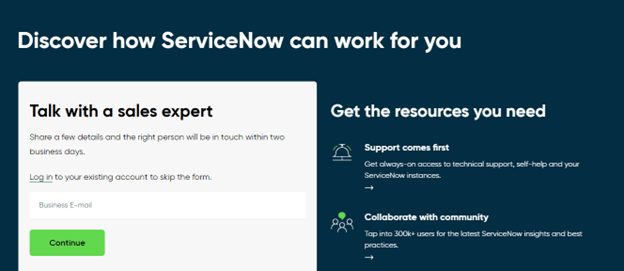 ServiceNow offers custom pricing which is based on two factors: The process or tool you need and the number of users who want to use it. The pricing structure is based on per user per month.
You can request a demo here and fill out a short form to get a quote from a sales expert. The demo doesn't give you access to the software, rather you'll see small videos of the tool in action.
The pricing, however, is on the higher end based on customer reviews. It is estimated to be at least 46% more expensive than the other similar software in the market. And this is primarily because it offers an end-to-end solution to healthcare businesses and isn't just limited to document management.
Pros
Here is what I like about ServiceNow:
A comprehensive healthcare management platform

Offers a lot of customizable tools for employees and customers

Seamless integration with other tools and apps.
Cons
Things I don't like:
Getting started and platform implementation aren't just time-consuming but expensive

Requires advanced training as it has a pretty decent learning curve.
The Right Healthcare Document Management System Is a Click Away
As I always say, the software itself isn't good or bad, how you use it makes it that way. The only way software or tools work for your business is when you make a well-informed decision.
The purpose of reviewing different healthcare document management solutions in this article was to help you make an informed decision. Match the features of the software with your goals and requirements, and the one that fits well should be your priority.
Once you know what software is right for your business, the rest gets easy.