Are you interested in the best engineering document management software? You don't have the time to find, analyze, evaluate, compare, and choose the right document management software for your engineering business? This is the guide you should read.
We analyzed the top engineering document management software and reviewed the ones with the highest rating so you can get to work right away without reinventing the wheel. 
Best Engineering Document Management Software
Here is a list of the leading document management systems for the engineering industry:
The best ones from this list are reviewed below:
ClickUp: Overall Best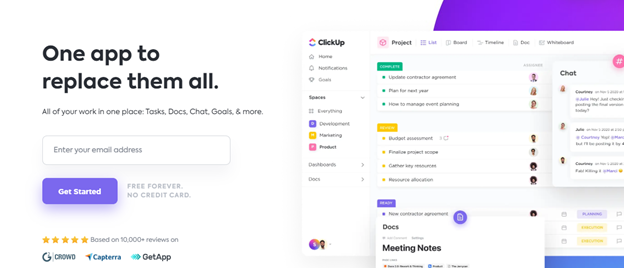 ClickUp is the best document management software for engineering teams as it offers a comprehensive suite of amazing tools. It has an agile dashboard that solves key challenges faced by engineering teams such as sprint management and backlog management. You can automate sprint workflows to improve productivity significantly.
Here is what the dashboard looks like: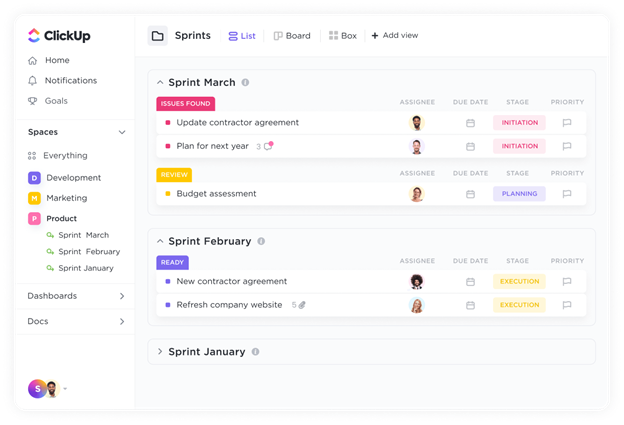 ClickUp offers several agile templates for engineering teams including agile management, product brief, simple sprints, bug queues, and more. Pick a template, customize it, and you are ready to get started immediately.
You can add documents and collaborate with the team in real-time. The collaboration tools include in-app video recording, comments, private docs, chat, whiteboards, and editing dashboard. You can connect ClickUp with other tools and platforms you use as it acts as a central source of all the content and documents your business owns. This makes it the best all-in-one engineering document management solution.
Key Features
Here is a list of the top ClickUp features that make it the best document management software for engineering teams:
An all-in-one software that offers a wide range of tools for managing documents, projects, workflows, and more

Agile dashboard for engineering teams with intuitive editor and workflow automation interface

Import and organize documents and content from other platforms

Document collaboration is made easier with an easy-to-use editor

Customizable templates for engineering teams that put your business right on track from day one

Board view lets you visualize agile workflows that lets you see all the workflows in a single framework

Box and Gannt views improve team coordination and project management significantly

Full control over permission, sharing, and privacy of the documents

Works seamlessly with spreadsheets and tables

Supports forms, whiteboards, mind maps, and the timelines for project management and smooth collaboration

Document tags and multiple assignees per document

Image and PDF annotation

Time tracking and goals take workflow to the next level

Advanced security features including custom permissions, 2-factor authentication, session management, and more

Integration with more than 50 native apps

Mobile app keeps your team connected 24/7.
Pricing

ClickUp offers 5 plans including a free forever plan. It uses a per user subscription model with a starting price of $9 per user per month. The 5 plans are Free, Unlimited, Business, Business Plus, and Enterprise.
The Free plan offers limited access to all the features. You can add unlimited members and enjoy all the leading features and tools. The major restriction is file storage space which is limited to 100 MB. This is ideal for personal use.
The Unlimited plan gives unlimited access to all the features including unlimited storage space. It costs $9 per user per month. The Business plan has the starting price of $19 per user per month and offers advanced features including unlimited teams, custom exporting, automation, time tracking, and more.
Business Plus has a starting price of $29 per user per month. It offers more advanced services including custom permissions, better automation, API, priority support, and admin training.
The Enterprise plan is ideal for large-scale businesses that need access to white labeling, enterprise API, dedicated manager, managed services, and access to enterprise services. It has custom pricing depending on your needs and the services needed.
Pros
Things I like about ClickUp:
A perfect document management suite for teams of all sizes

Easy-to-use and intuitive interface with advanced integrations

Free plan that you don't usually get with document management software.
Cons
Here is what I don't like about ClickUp:
The only issue is the lack of specific document management tools and features such as version control and audit trail.
Adept: Best Features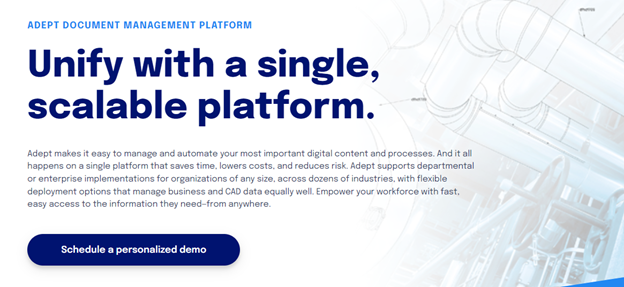 If ClickUp didn't meet your expectations as it lacks a few key document management-related features, you will love Adept by Synergis Software. It is best in terms of features and offers everything you need to store, organize, and manage documents.
Unlike other document management solutions, Adept isn't just available as a cloud solution rather you can have it installed on-premises too. You can import your existing file and folder system to Adept without changing anything. This is a great feature because your employees can work easily without spending time finding files and folders they want to work on. And this also helps you export documents to another software retaining the actual file and folder system.
The user interface requires training, but the good thing is that it is available on the web, desktop, mobile, and CAD. The interface allows powerful collaboration and workflow management features such as advanced version control, file relationships, advanced search, visualization, automatic workflows, and more.
Adept has exceptional security as it uses encryption at rest, in transit, and in use. Advanced user management and rights control give you full control over document security. The audit trail maintains a complete record of every single document in your system for its entire life. This helps you identify security loopholes with ease.
Key Features
Here is an overview of the Adept's leading features:
A comprehensive engineering document management system for businesses of all sizes

Powerful document management interface with workflow management, collaboration, and agile team management

It lets you import documents from existing tools hassle-free without messing with the folder structure

Advanced search feature including full text search and supports Boolean and wildcard characters

Advanced version control with major and minor revisions

Revision control with CAD reference files

Create workflows within a few minutes via the drag-and-drop tool

A lot of features to support document collaboration

Ideal for visual designs including 2D and 3D markup

Offers a complete 3D visual experience for your engineering team

Instantly convert visuals into printable PDFs

Advanced security and encryption

Right and permission management

Data mirroring on an additional data center for security and emergency recovery

Searchable audit trail of all the documents

Complete support for all the CAD systems

API integration that lets you connect your software with any platform and tool of your choice

It has a mobile app, web-based platform, and desktop software.
Pricing

Adept offers different plans and two main types of licenses: Named and concurrent. The price isn't available on its website, you need to fill out a short form to get pricing details.
The Explorer is the basic plan with read-only access and comes with a web-based platform only. It offers basic CAD-related functionalities with document management. The Reviewer plan offers better features including workflow automation and document upload and download. The Creator plan is the one that lets you create and modify documents with all the edit features. If you are interested in document management, this is the plan you should use.
The Desktop plan comes with a desktop software version and offers CAD integration, automation, and admin control and permission management. Ideally, this is the plan you should opt for if you want to manage documents with full control and flexibility.
Adept offers a lot of additional services at an additional price including onboarding and implementation, consultation, administrative services, training, data migration, and others. So, you get all types of additional services from these guys.
Pros
Here is what I like about Adept:
A feature-rich document management platform designed for engineering teams

Built-in support for CAD systems

Integrates seamlessly with other tools and apps.
Cons
Here is what I don't like about Adept:
It has a learning curve where your staff will need training and it comes at a cost.
Smartsheet: Best Multipurpose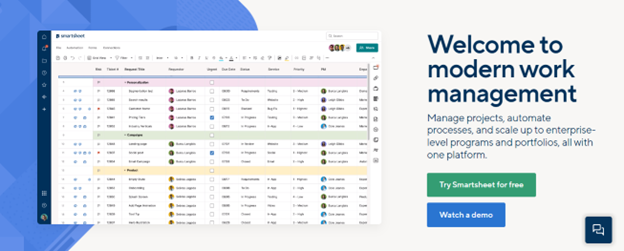 Smartsheet is a multipurpose platform that functions as a project management solution with document management and several other functionalities. It offers a complete suite of different tools including team collaboration, workflow automation, content management, digital asset management, and more.
It has an intuitive user interface that is simple yet easy to use. Here is how it looks: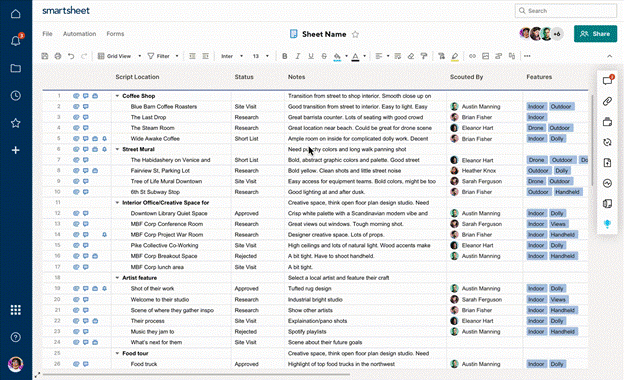 You can control everything from the dashboard. It gives you access to the admin area, activity log, notification, automation, workflow, conversations, insights, and much more.
Content collaboration lets you create, manage, and collaborate on new content creation effortlessly. It offers features like automated alerts, task management, reviewing and editing abilities, simultaneous reviewing, version control, and more.
One of the best things about Smartsheet is its similarity with Microsoft Excel as it supports formulas, grids, Gantt, and projects. This makes it ideal for technical projects and managing technical documents. It is also helpful in automating business processes, especially routine repetitive tasks.
Key Features
Here is a list of the Smartsheet features:
Multipurpose document management solution for engineering businesses and teams

Intuitive and a user-friendly drag-and-drop interface

Several templates to choose from to get started immediately

Collaborate with team members assigning tasks, comments, and invite users

Add content from other apps and tools

Content review and feedback allow reviewing and editing in real-time

Create meaningful conversations with team members within the sheet

Ability to create Gantt charts and support for viewing critical path that helps employees see how their tasks impact the project

Create PDFs based on rows and/or columns with a single click

Supports version history, forms, and e-signatures

Advanced analytics and insights that help in forecasting and resolving conflicts on time

User management with advanced security features

Integrates with leading tools including Google Workspace, Microsoft Teams, Slack, and several others

Works on mobile, desktop, and web making it easier for your teams to stay connected when they are not on the desk.
Pricing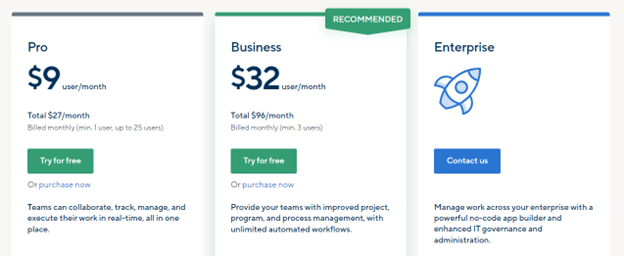 Smartsheet offers 3 plans: Pro, Business, and Enterprise. The pricing model is per user per month with a starting price of $9 per month.
The Pro plan is priced at $9 per user per month and supports up to 25 users. It offers basic features that allow your team to collaborate and manage projects with basic functionalities.
The Business plan is priced at $32 per user per month and supports a minimum of 3 users. It comes with advanced functions such as automated workflows and process management.
The Enterprise plan has custom pricing and is suitable for large businesses with dispersed teams. It comes with an app builder that lets you build customized apps for your business and teams. It offers a lot of additional advanced features such as governance controls, custom domains, encryption keys management, and more.
Both Pro and Business plans come with a 30-day free trial.
Pros
Things I like:
Simple yet effective multipurpose content management solution

Works great with leading tools and platforms in your tech stack

A 30-day free trial lets you explore all the features risk-free.
Cons
Things I don't like about Smartsheet:
It requires training. Despite having an easy-to-use interface, you need to train your staff to use it like experts.
SharePoint: Best Low-Cost

Microsoft SharePoint isn't just a leading document management system, but it is one of the most cost-effective solutions you will find in the market. It is best for startups, small businesses, and companies that hate spending thousands of dollars on document management every month just because they have thousands of employees who want to engage and work on documents daily.
It offers all the features that you'd like to see in a document management system. You can conveniently share files and documents throughout the organization and outside your business. It allows a real-time coauthoring feature that lets multiple people work on a single document without making a mess.
Lists and OneDrive are the two additional tools you get access to with SharePoint that enhance the capability and work together to provide your business with all the necessary features for document management, collaboration, and storage.
Team sites are a unique feature that allows you to create sites for specific teams. The team members see all the latest happenings on the site with notifications, project progress, tasks, and more. Your data remains safe as it comes with an advanced DLP feature that constantly monitors data for breaches. 
Key Features
The top Microsoft SharePoint features include:
Leading document management and collaboration software for businesses of all sizes

Scalable at all levels with the potential to work for large enterprises without any issue

User-friendly and familiar user interface that requires minimal training

Import, store, organize, and share documents securely throughout the business hassle-free

Real-time syncing for all the versions of a document

Coauthoring feature saves a lot of time as more than one person can work simultaneously on any document

Comes with Microsoft Lists that lets you track and organize work and projects

Team sites boost collaboration and productivity by keeping tasks and notifications organized for individuals

All the users get their own storage via OneDrive

In-place holds avoid content deletion

Customized search and results feature for your business

Advanced security and encryption keep your data secure even when it is shared outside your organization

Works on the cloud, mobile, and desktop with real-time sync

Integrates and works with Microsoft Office 365 and all the other leading apps.
Pricing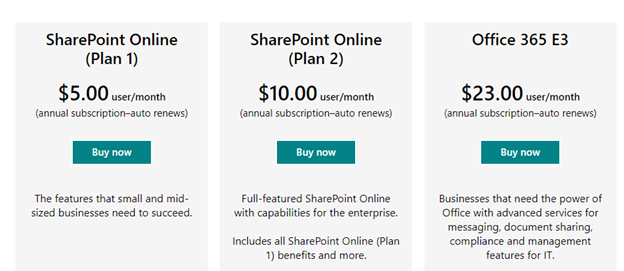 SharePoint has an annual subscription-based pricing model per user. It offers 3 plans with a starting price of $5 per user per month. Plan 1 is priced at $5 per user per month with an annual subscription with access to SharePoint, OneDrive, and Lists. It offers all the basic-level features that any mid-sized business needs.
Plan 2 offers advanced features and is priced at $10 per user per month. You get access to advanced features with this plan such as unlimited cloud storage, in-place holds, customized search, DLP, and more.
The Office 365 E3 plan is priced at $23 per user per month and is ideal for enterprises. It offers a complete Office 365 suite with additional services including Skype for Business, Exchange, Delve, Teams, and Yammer. It supports unlimited users and offers business process automation.
Pros
Here is what I like about SharePoint:
A well-known and cost-effective document management platform

Powerful integration lets you use it with any tool or software you have in your stack

Fully scalable as your business grows.
Cons
Here is what I don't like:
It requires training and your engineering staff must know how to use multiple tools that SharePoint comes with

You must switch between different tools when working on multiple projects and documents. There is a lack of a centralized dashboard for all the documents, projects, and tasks.
DocuWare: Best for Large Businesses
If you are interested in engineering document management software for a large business that's geographically dispersed, you need to check out DocuWare. It is an ideal system for businesses that want to go paperless and take full control over document management. With cloud and on-premises solutions, DocuWare gives you everything you need to manage documents and content across your organization.
You get access to a centralized dashboard where you can manage content and documents easily. It supports project management, workflow management, process automation, and lots of flexibility. You can import documents from the existing tool with a few simple clicks. DocuWare indexes all the documents smartly using AI and lets your team get to work straight away.
One of the key aspects of DocuWare is its workflow management which lets you create any type of workflow with its drag-and-drop interface: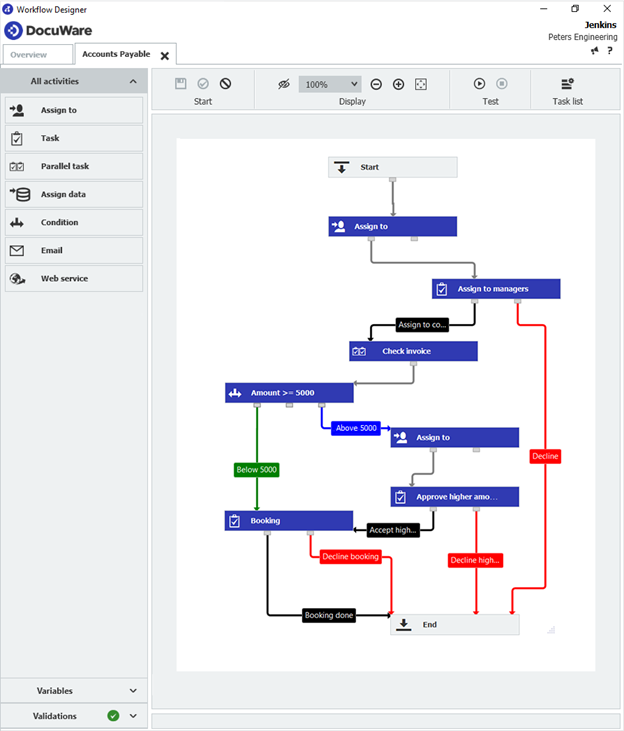 You can create variables, assign tasks, add data and conditions, send alerts, and do a lot of things. It can help you automate repetitive tasks and boost productivity significantly.
Document creation, review, editing, and collaboration get easier with power features offered by DocuWare. It allows digital editing for scanned documents with full control over version history. When assigning tasks for review and edits, you can set deadlines with clear rules. Importantly, you can choose from a wide range of prebuilt workflow solutions with little or no customization.
Key Features
Here is a list of the top DocuWare features:
A robust engineering document management software that's ideal for large-scale businesses

Imports documents from other software with a few clicks

Makes scanned documents editable

AI-based document indexing that makes your documents easy-to-search

Full-text editing improves file searchability based on the content of the document

Supports email import from Outlook

Advanced versioning with full control over historical edits

Electronic signature and eforms for data collection

Workflow creation and management on autopilot

Advanced security and encryption

Data is encrypted at rest and in transit

Available in the form of cloud and on-premises solutions

Handy mobile app that keeps your team connected 24/7

API integration ensures you can easily connect it with other tools and apps.
Pricing
DocuWare offers custom pricing that strictly depends on what features you need and how many users you have. The platform is available as both cloud and on-premises and this is a key price distinguisher. You can request a demo of the cloud version here. You will get access to the software as a free trial and you can test drive it and see how it works for you.
Unlike other document management software, DocuWare doesn't send you a demo in the form of a video recording, rather you will get access to the real software.
Once you are ready, you can send specific requirements and features you want to be in the software to receive a customized quotation from the sales team.
Pros
Here is what I like about DocuWare:
Offers a comprehensive engineering document management solution for large businesses and enterprises

Advanced features and API integration simplify document management and organization

Free trial is helpful in decision-making.
Cons
Here is what I don't like:
It is advanced software that requires intensive training that will add to the cost

On-premises implementation of the software is a time-consuming and expensive process.
How to Pick the Right Engineering Document Management System
I agree that it isn't as easy as it sounds when you must choose a document management solution for your business. It isn't one of those standalone investments that don't require any input from key stakeholders, rather it is a key decision that is linked to your entire business.
And if it goes wrong, it is no less than a disaster for any business.
Here are the best tips to help you avoid making this common mistake of buying a document management software that turns out to be a misfit:
Set Clear Goals
Why do you need a document management tool and what do you want to achieve from it?
A simple question like this will guide you in the right direction. Your decision to invest in a document management solution must be need and purpose driven.
For example, you might need engineering document management software to make your business paperless as it is estimated to save a certain amount of money annually.
Just because your competitors are using a document management tool doesn't mean you need to use one too.
Keep Stakeholders in Loop
If top management has decided to pick a document management solution without any input from line managers and concerned departments, it is most likely to fail.
Input from all the concerned departments, teams, and employees is crucial. Those who manage documents currently and have to use the software probably know the most about what key features they'd like to see in the software.
You never know what features and functions end-users want unless you take them in the loop.
Inspect Business-Software Fit
Does the software have the potential to integrate with the existing tools you are using? Does it go with your organization's culture and philosophy?
This involves a lot of aspects including cloud vs. on-premises solutions. If your business has its own IT infrastructure and servers and you only use on-premises tools that are monitored and controlled by an in-house IT team, this means you only need on-premises software.
This isn't just limited to tangible fit rather it includes intangible fit as well. This means you have to look at the culture, philosophy, vision, and even the types of companies the software is used by. You don't just buy a document management solution, rather you choose a business partner that impacts your business in several ways.
Inspect and analyze this impact.
Follow these 3 tips in their true spirit and you won't have any issues picking the right and the best engineering document management software for your business.