Writer Duet is one of many screenplay writing software that is available. Writing a screenplay is a unique endeavor with its own set of challenges and techniques.
A quality screenplay writing software will address all of these and make the process easier for the writer. Only a completely honest, unbiased and detailed Writer Duet review will tell you if the program is right for you. That is what you'll find here.
Writer Duet: Overview
Writer Duet was founded by Guy Goldstein. It was originally intended to be the ultimate solution for those who were co-writing a script. At the time, there were no good solutions here, and he wanted to fix that.
Over time, though, he realized that screenwriting overall needed a solid, powerful, and intuitive software. Writer Duet began to raise the standards of Screenwriting. It stands out as powerful and comprehensive software that is easy to use and understand.
There are many intelligent, useful features included in the program, but it has three real shining moments:
Feature Overview
Collaboration
Multiple writers can collaborate on a single project.
The program is entirely cloud-based, meaning no one has to download anything.
Changes appear in real time as they are typed. Writers can watch each other work.
Offline Editing
Despite being an online program, offline editing is possible.
Edits will become live and viewable by partners when you are connected to the internet again.
Easy
Writer Duet is comprehensive but organized and easy to use.
The layout is simple, and if any confusion does occur, mousing over each icon or button will tell you what it does.
While Writer Duet is suitable and useful for a writer working on their own, it's most powerful and has the most potential as collaboration software.
Before diving into a screenwriting software, you might want to take a look at this detailed guide on how to write a screenplay.
A Screenplay Writing Template
Once you understand the ins and outs of writing a screenplay, you will find it beneficial to work with a screenplay writing template: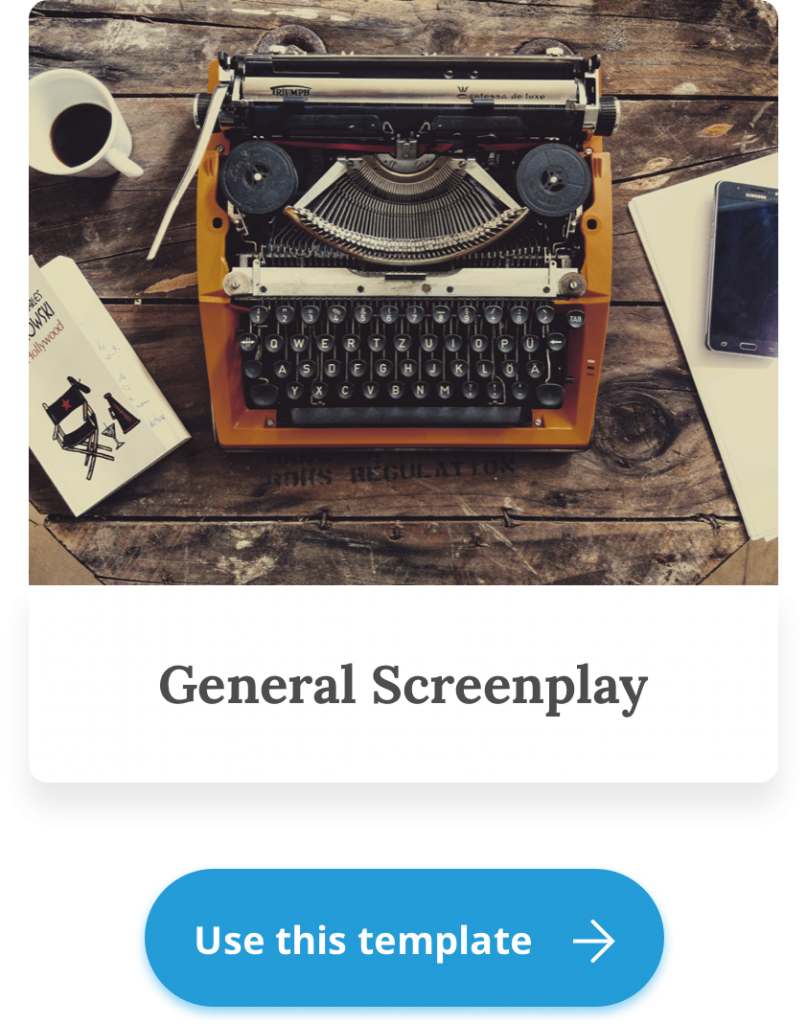 This will help you take your knowledge and ideas and apply them to a proper structure. It will guide you through the process of writing your script and offer help for each stage of the story.
It's enough to help you get to the end, but not so rigid that it will stop your flow of creativity.
Writer Duet Review: Features
While the collaboration capabilities are the real selling point of this software, there are many notable and impressive features that can make it a good choice for writing a solid screenplay in general.
After all, collaboration is great, but if the software can't produce results then it's no good for anyone.
Free Trial
As with most software out there, Writer Duet comes with a limited free trial. Their free trial has a unique structure, however. You're not limited to a certain amount of days, but a certain amount of scripts.
You can write up to three full-length scripts within the program for free. There is no time or word count limit - however, not all features are available in this free version. The collaboration, for example, is only available to paying customers.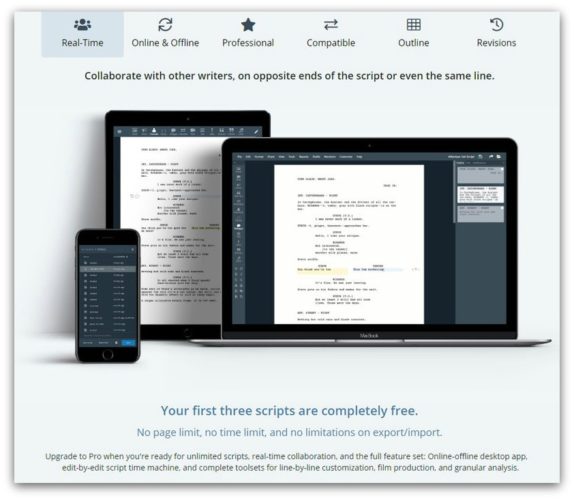 The lack of collaboration won't inhibit your ability to sufficiently test out the software, though. You can still see exactly how it works and what it can do to assist you in your screenwriting projects.
Import and Export Anything
Writer Duet allows you to import screenplays from any other software, which is super handy if you're going to make the switch from something else. It may not match your fonts exactly, but formatting will be at least 95% accurate.
Any inconsistencies that do occur will be minor and easy to fix.
In addition, you can export your scripts to any other program. Many writers will work with more than one writing software as different programs can serve different needs. If you need to move your work somewhere else for additional editing or whatever else, exporting is easy.
Lastly, Writer Duet has a unique and impressive ability to convert your PDF files into an editable document. This is beyond convenient if a PDF is the only version you have of something.
The Time Machine
Writer Duet preserves everything you do, down to every last keystroke. All edits are saved and are labeled with the time they were made and which writer made the change if collaborating.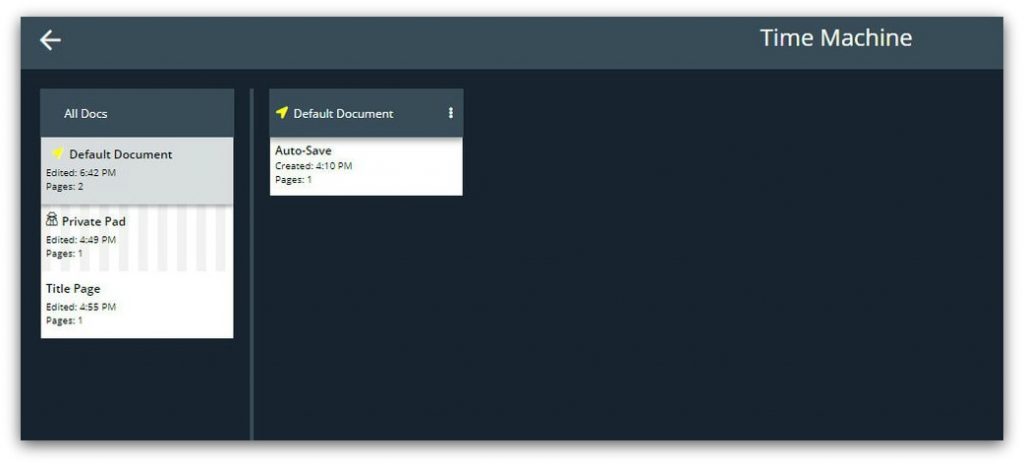 Revision history is a pretty standard feature, but Writer Duet does it right. They include every detail you could ever need to track the changes that have been made. Restoring an old version is easy.
Outlining
Writer Duet has a simple but useful outlining tool that uses virtual notecards and organizes them in a similar fashion to a corkboard.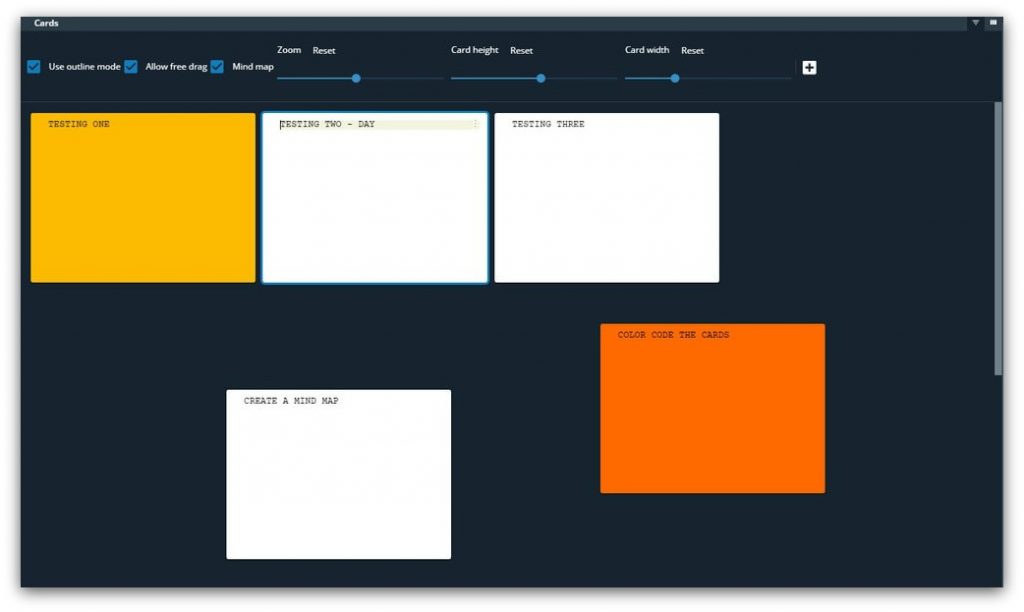 You can customize and organize the cards in whatever way makes the most sense to you and your project. There are a lot of options:
Zoom in and out of the whole board.
Modify card height and width.
Color-code the cards.
Tag the cards.
Filter cards by tag.
You can also look at an overview of your outline while working in your main document: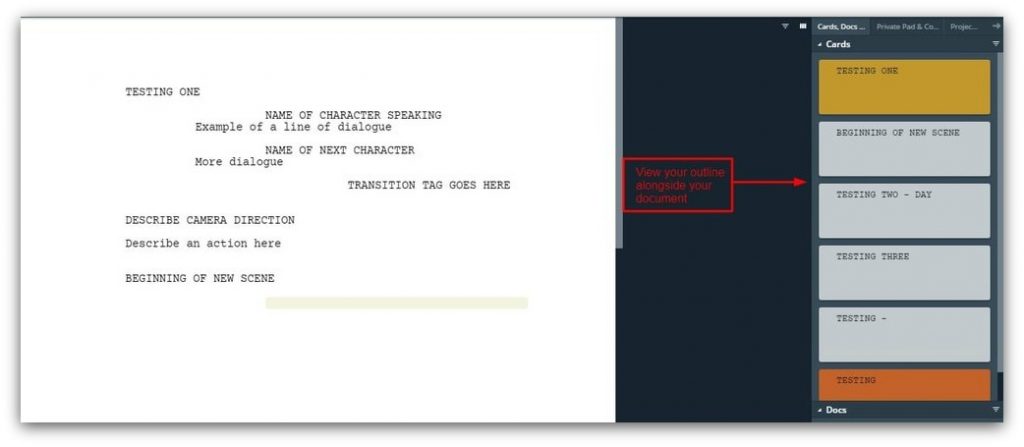 If you're still in more of the brainstorming stage, you can activate the "mind map" mode, which allows cards to be placed wherever you want on the board, rather than in a uniform row.
Formatting
Formatting your screenplay according to industry standards is fast and easy with Writer Duet. There is an individual button for each type of tag or line that you'll need to use:
Scene beginning and end tags.
Description of a scene's action.
The name of the character that is speaking.
Notes about how the line is said (parentheticals).
The dialogue.
Transition tags.
Camera direction.
There is also the option to insert a line of text that doesn't fall into any of the above categories. You can also insert a note that will appear as part of the document but won't be a part of the actual script when printed or published.
Selecting the icon that corresponds to the type of content you need to write will automatically place it where it needs to go on the page - as seen below: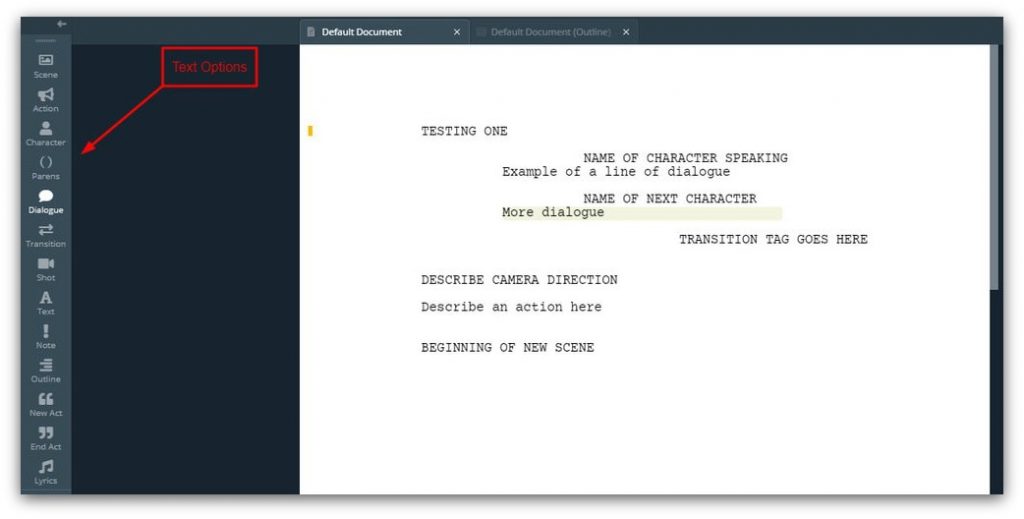 This means you don't even have to think about the formatting, it's all done for you. Once you're done writing, revising, and editing, you'll be ready to to go.
Ghost Mode
Ghost mode is a simple option that allows writers to write in private. They can enter ghost mode and keep their work, edits, or changes to themselves until they are ready to share.
Once they are happy with the work, they can choose to share it with their partners when they want. This can be useful in a few situations:
Many other writers are working at once and you don't want them to be distracted or distract you from what you're doing.
If you're not confident in what you're writing and you want to perfect it before making it visible to everyone.
If you want to test something that you're unsure of and don't want to share it right away. This way, if it doesn't end up being a good fit, you can just get rid of it without bothering the other writers.
These are just some examples. It's a handy feature to have as collaborating is great but sometimes you just want to keep to yourself for a while.
Graveyard
The graveyard is a separate place where you can store pieces of the script that you haven't found a place for yet. All you have to do is select the piece of text you want to move, and send it to the graveyard.
Once you do find a place for the lines or scene, you can pick it up from the graveyard and insert it into the main document with a few easy clicks.
Writer Duet Pro: Upgrade Options
Three full scripts is a generous allowance as free trials go, but it won't sustain you forever. You also don't have access to all the features until you upgrade. Once you've finished your three free scripts, or you have decided you want to upgrade to Duet Writer Pro, you have three options:
Writer Duet Plus: $7.99/month or $59.99/year.
Writer Duet Pro: $11.99/month or $89/year.
Writer Duet Premium: $15.99/month or $119/year.
Each level of subscription unlocks new features, with Writer Duet Premium being the option that gives you access to every single thing Writer Duet has to offer.
Writer Duet Plus
With Writer Duet Plus you are given access to the most basic features of Writer Duet. You can create unlimited projects, and you will have access to your entire revision history and deleted text.
You are also able to create Dropbox and/or Google backups of all your projects. You are also given access to the collaboration capabilities, allowing you to take advantage of the most powerful part of this software.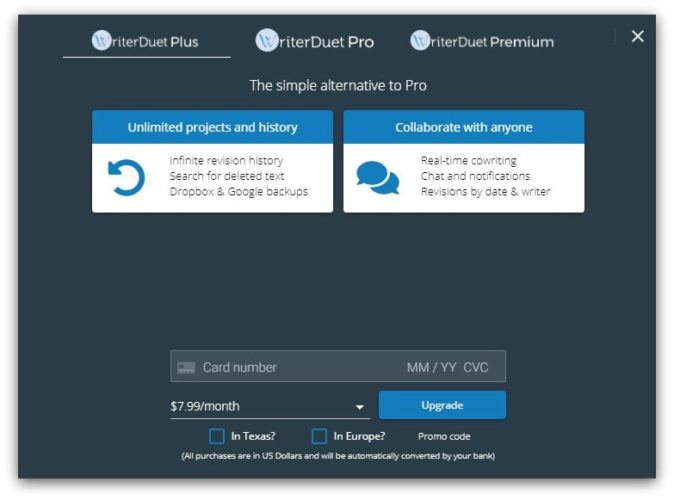 This is a good option for an amateur scriptwriter who just wants to get started creating their screenplays with a program that can help them in amazing ways.
Writer Duet Pro
In addition to unlimited projects and the collaboration ability, Writer Duet Pro will unlock other features that allow for even more organization, planning, and tracking:
Tagging and filtering.
Statistics and reports.
PDF watermarks and encryption.
Access to desktop and mobile apps to write offline.
Autosync when online.
Free version updates for life.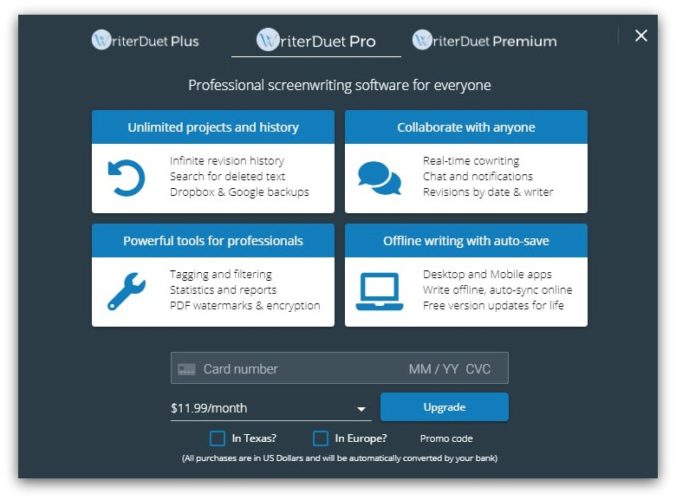 This next step up is suitable for most professionals who are starting to generate some income with their screenplays and have deadlines to meet.
Writer Duet Premium
This last option gives you access to the full program. It unlocks a ton of cool features that allow you to add some different things to your screenplay:
Utilize a cast of computer voices, or invite voice actors.
Utilize parallell columns for split-screen scenes, documentaries, or VR.
Easily translate into plenty of languages without losing any formatting.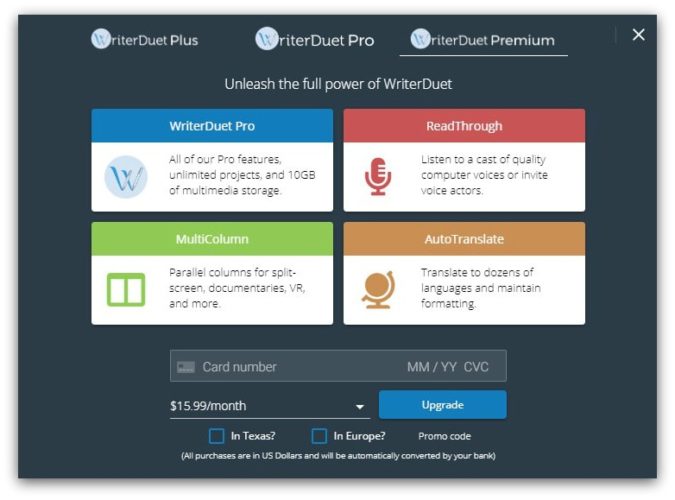 This level is for people who want to make the screenplay more than a basic script. Most screenwriters won't need these additional features if the script is all they are working on - Writer Duet pro is sufficient for this.
Writer Duet Alternative
While this is a fantastic, high-quality program when it comes to collaborating, it might not be what a solo writer needs. A cheaper, more simplified alternative is a program called Squibler.
Squibler offers writers a sleek, easy to use interface. There are plenty of options and features that are available without getting complicated:
Create an outline.
Store and organize your research.
Take notes and filter them with tags.
Break your writing up into chapters/scenes/sections - whatever you need.
Drag and drop sections to rearrange with ease.
Built-in text editor to help you catch mistakes.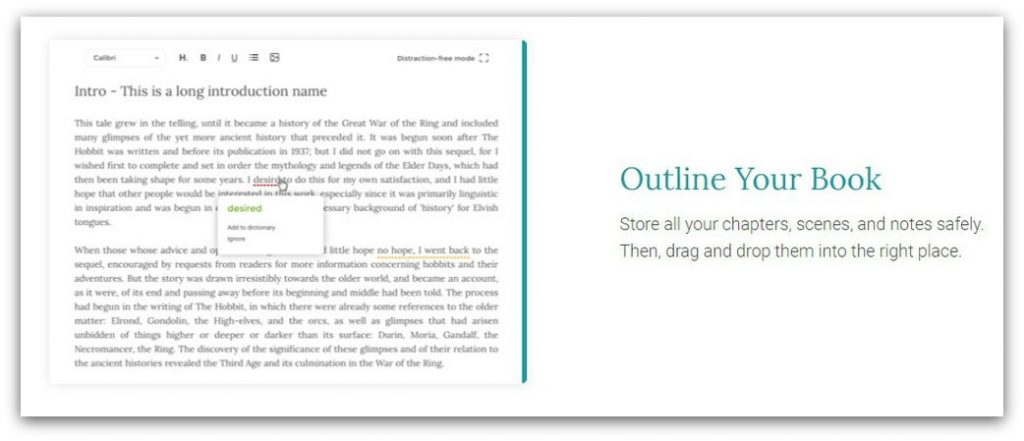 Squibler costs only $10/month and helps writers of all kinds write their projects in the most efficient way, fostering a goal of publishing within 30 days. Squibler also has many built-in templates that help and guide a writer through their specific genre or style of project.
Is Writer Duet Worth it?
Compared to other similar programs on the market, Writer Duet is reasonably priced for what it is. You get a lot of innovative and useful features that are easy to use and understand.
The software can do a lot to help a solo writer, but its real strength is in the collaboration. If you're looking for a convenient and intuitive way to work with a partner or team, Writer Duet is worth the low cost for what you get.
If you're a solo writer, Duet Writer will still meet your needs. However, you might be able to find a cheaper option that does the same thing, if you're not interested in collaboration.