How to write a book is a question so many ask both themselves and others on a regular basis. Some people are natural writers, while others need to work at it, but many feel they have a story to tell.

For some, they want to write an epic work of best-selling fiction. Others feel the need to tell their personal story to the world. Others still want to write something creative and captivating that is rooted in truth.
Whatever you are feeling compelled to document, knowing how to write a book well is crucial to get your words in front of an audience. There are some things that most, if not all, writers will do.

Some things will depend on your own personal preference. It is in a combination of these elements where you will find your process. You will figure out how to write a novel, a memoir, or whatever you are after.
How to Write a Book: Your Space
Learning how to write a book effectively should begin before your pen even hits the paper. Having a good writing space is essential to good productivity.
You need to have a place set aside that is just for writing and free from distractions. Having an entire room or office for this purpose is ideal, but not realistic for everyone.

Even if all you have is a little corner for your desk, make the space your own – whatever that means. Put up some photos or posters that encourage and inspire you.
If you thrive on simplicity, leave everything blank. Organize your supplies and ensure everything is in its place. This will allow you to get straight to writing each time, without having to search for anything.

Your space can also include music. Many writers draw inspiration, focus, and/or motivation from music.

For some this will be their favorite artists. Others will prefer music specifically designed to calm and invigorate them.

Regardless of your preference, experiment with music and see how it can help you.
How to Write a Book: Your Process
Every writer has a different process, and yours will evolve and develop the more you write. If you are just starting out, however, there are some steps you can take into consideration as you go through the first stages of writing your book.
Planning/Outlining
Outlining comes in many different forms. Some writers will spend as much time outlining as they do writing the entire book! Others will only make a brief plan that can be changed and re-worked easily and often.
As you learn how to write a novel you will figure out what works for you, but some elements of an outline can include:

Predetermined plot points (usually between 2-4)
Chapter outlines and scene ideas
Character sketches (for fiction)
Information on relevant people to be included (for non-fiction)
Setting and location information
Relevant facts
General brainstorming
Research
Like outlining, the research process will vary depending on what exactly you are writing.
If you are writing a personal memoir or autobiography, minimal research will be needed. On the flip side, creative non-fiction or a true crime piece will require extensive research. You will need to ensure that all details and events are correct.

Many works of fiction also require large volumes of research. Historical fiction will need a great deal of physical accuracy – things like real events, people, locations, and dates.
Some novels explore a deeply emotional and/or physiological set of themes. For these, you will need to do research into the mind and behavior of certain conditions or types of people.

Even if you are not a fan of outlining and don't do much of it, proper research is essential to creating a believable narrative.
The Writing
Once you have done the necessary planning, outlining, and research, it is time to actually write your book. This part of the process will also look different for every writer.

Some prefer to write in strict chronological order and they don't stray from it. Others will decide on their ending first and write the rest of the book towards that. Others still will jump right into the middle with the most dramatic and action-packed scenes, and work outwards from there.

There is no right or wrong way to do this. You may end up sticking to a certain style for every book you write. You may also find that a different approach works for different types of writing. Don't be afraid to mix it up and do whatever works for you.

It will also be beneficial to the success of your book if you create a writing schedule. You may have a consistently full schedule, or you might be quite available. Either way, setting goals and sticking to a daily process will help you finish the book in as timely a manner as possible.

Do this by setting aside some time to write each day. For some this may be two or three hours in the evening, for others it might be 20 minutes in the morning.
Do something that works well with your schedule. Next, set a daily or weekly word count goal. Start low and work upwards if you find yourself exceeding it each day.
Writing Tools
Writing a book is a long process and a big commitment. There are so many elements that it can be overwhelming to see it all looming in front of you at the beginning. Fortunately, there is much novel writing software available for writers that can be helpful, and take some of the pressure off.
Writing Tools
1. Microsoft Word
Word processor.
Simple and linear.
Useful for shorter pieces of professional writing.

2. Squibler
Word processor.
Simple but powerful.
Many organization options.
Store notes and research.
Drag and drop chapters/scenes.
Get help with publishing.
3. Grammarly
Editor.
Focuses on basic grammar and punctuation.
Catches spelling mistakes.
Advanced checks available with upgrade.
4. Hemingway
Editor.
Focuses on readability.
Scans for adverbs, passive voice, complex words.
Analyzes sentence structure.
The actual writing of your book will be made easier if you use a program that is designed specifically for this purpose. Microsoft Word is the most common word processor, but it is not ideal for novel-length works.
It is simplistic and linear which makes organizing chapters and scenes difficult. Trying to move things around or change the order will require a lot of scrolling, copying, and pasting.
Squibler
Luckily, there are several other options that are much more suited to long-form writing. One of these is Squibler.
This is a simple but comprehensive program designed with novelists in mind. It has a basic interface that is easy to understand, but it is packed with features that will maximize productivity.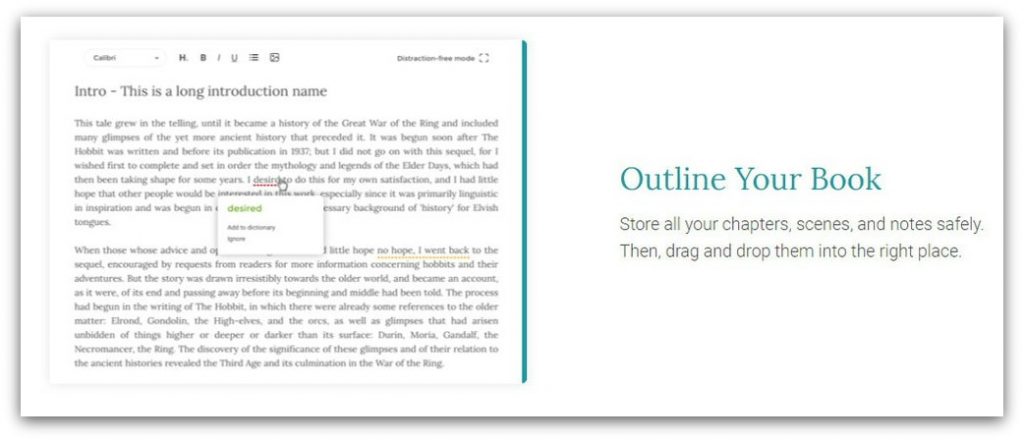 One of the most powerful things about Squibler is its ability to write each chapter, and even each scene, as a seperate piece. This allows for easy and seamless organization. All you have to do is drag and drop to change the chronological order of your story, or to move a scene to a different chapter.

For those who thrive on the outline, Squibler offers space for storing and organizing your notes and research. It is all built into one so your outline will be accessible at any time as you write your book.
Editing
Editing is one of the most tedious, time-consuming, and often frustrating parts of the writing process. While it is entirely unavoidable, it is possible to make it easier.

Grammarly
For starters, there is Grammarly. Grammarly is an app that scans your work and checks for grammar. It will pick up basic mistakes such as:

Missing or unnecessary commas.
Other misused punctuation like periods and exclamation points
Misspelled word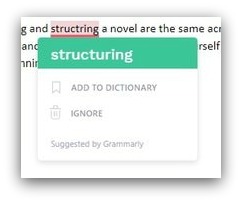 Grammarly will do all of this for free. You can plug your work into their online editor, or install the chrome extension. Installing the extension will allow Grammarly to work everywhere.

It will check your writing and correspondence across all your daily activities:

Social media such as Facebook, Twitter, and LinkedIn
Projects such as blog posts, articles, and other web content. It will check your work as you write or you can paste it into your chosen blogging platform.
Emails, instant messages, and other forms of communication.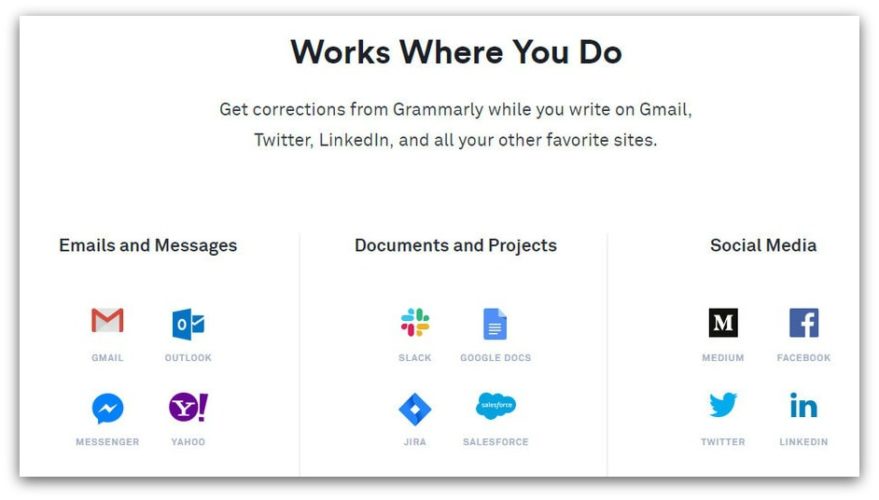 As long as you have an internet connection, Grammarly is with you.

Grammarly also offers some other integrations that are available to download or activate separately:

Grammarly for Microsoft Office. This also includes integration with Outlook.
Grammarly for Windows. This app puts Grammarly right on your desktop.
Grammarly for Google Docs. This is currently in the beta testing stage, but Grammarly will check your work right inside your Google Doc.
These apps and integrations are all also free.
Upgrade
Grammarly offers its users a lot of free services, but they do have a premium upgrade available. This upgrade unlocks a list of additional features:

Advanced punctuation checks
Context and sentence structure analysis
Vocabulary enhancement suggestions
Genre-specific style checks
A plagiarism detector that scans more than 16 billion web pages
The premium upgrade comes with three pricing options. The more you are able to pay for at once, the more you'll save in the end:

Pay monthly at $29.95/month
Pay quarterly at $19.98/month (billed in installments of $59.99)
Pay yearly at $11.66/month (billed once a year at $139.95)
Grammarly premium is a sound investment for those looking to take their writing to the next level and save huge time on editing. Especially if you are a newbie, Grammarly is a perfect addition to your efforts to learn how to write a book.
Hemingway Editor
Grammarly focuses on your grammar and overall structure, Hemingway scans for readability. There are five main things it focuses on:

Adverbs. It suggests keeping adverbs to a minimum, if you use them at all.
Passive voice. It also suggests using minimal passive voice.
Complex phrases. It highlights words or phrases that are complex and suggests using a simpler alternative.
It highlights sentences that are hard to read. This can include run-on sentences and those that are too long or wordy.
It goes one step further and highlights sentences that are very hard to read. The basic "hard to read" sentences can sometimes be left alone when tone or style are taken into consideration. These "very" hard to read sentences should not be ignored.
Improving these five things make for better readability. It gives your writing a good flow and allows readers to more easily understand what you are saying.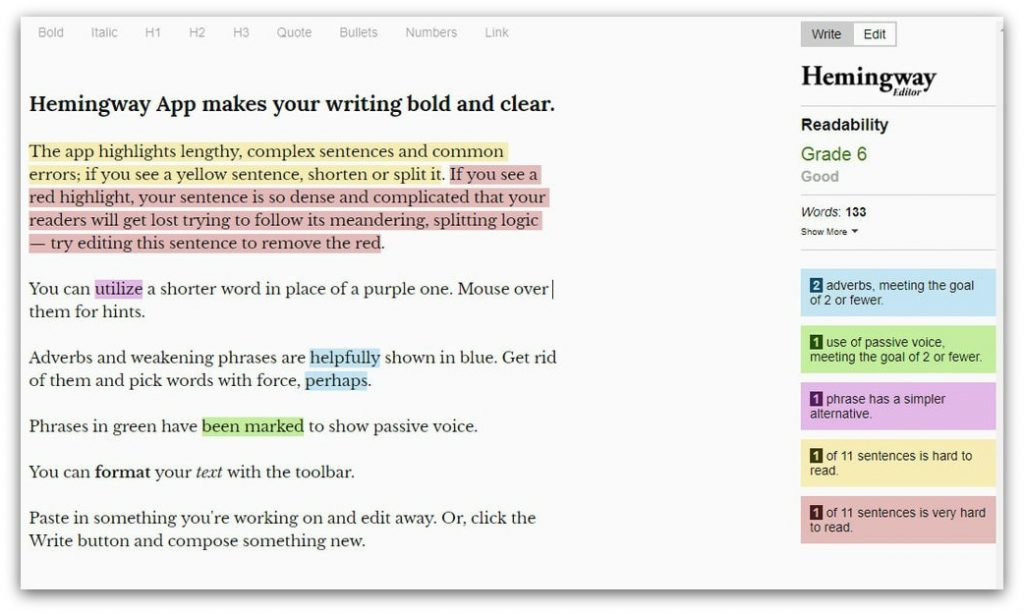 The Hemingway editor is available to use for free online. It allows for an unlimited word count and unlimited uses.

The editor also has some formatting options. This means you can do your work right in the editor itself and make it look presentable. When you are done you can copy and paste your work, format included.

If you'd prefer though, you can also paste your completed work into the editor and it will flag the whole thing at once.
Upgrade
The online Hemingway editor is free to use, but they also offer an upgrade. For one payment of $19.99 you can get a number of bonuses:

The biggest advantage is the desktop app. Available on Mac and Windows, you can download the editor and enjoy unlimited offline access. It also allows you to save your projects.
You can publish directly onto WordPress or Medium if you wish.
You can also format and prepare it for publication anywhere else on the web.
It allows you to export your work into MS Word or other editors.
You are able to send a highlighted piece of work to others. This is great for collaboration purposes.
While Hemingway doesn't make allowances for tone and style, it offers valuable insight into your writing and how it can be improved.

It is especially useful for blog posts, essays, or other professional articles. It can be used to edit fiction, but you must keep in mind its lack of consideration for personal stylistic freedoms.
Programs like Grammarly and Hemingway will can help you catch things. Grammarly will look for errors in grammar and spelling. Hemingway can offer suggestions on sentence structure, word choice, and overall readability.

This is a way to get a fresh set of "eyes" on your work that will often pick up the small things that you missed.
How to Write a Book with a Mentor
There are few things more valuable than learning from someone who has already been where you want to be. Whether you have never written a book before, or a seasoned writer looking to enhance your knowledge, a mentor of some sort can help you in many ways:

Receive consistent and honest feedback. These people aren't here to sugarcoat anything.
Accountability. A mentor will help you create realistic goals and set a practical schedule. They will also keep you accountable for meeting these goals by pushing you through those bouts of writer's block and lack of motivation
Support. Being a writer isn't an easy life and it involves plenty of rejection and frustration. You will have someone who understands exactly what you are going through, and can reassure you in the darkest moments.
There are a lot of successful, published authors out there who are more than happy to help out aspiring writers and those who need some guidance. There are a few different ways you can seek out a mentor:

Through local writing programs in your town or city – start with libraries.
Some college/university writing courses offer mentorship programs.
Some online forums/websites exist for this purpose.
Reach out to the author themselves if you have someone specific in mind.
Know Why You Want to Write a Book
All of the book writing software in the world can't tell you why you want to write a book. Only you know exactly why you're writing. And knowing why is one of the most important steps.

On the surface, it may seem like a no-brainer. However, if you really ask yourself, you may find you struggle with the answer.

Spend some time discovering why you are writing your book.

Are you sharing a personal experience?
Are you an expert in something?
Do you want to help people?
Do you want to tell an epic story?
Is there a deeper message you want to share?
Knowing why is crucial to seeing your book through to the end.

If you don't know why you're writing, you will eventually lose interest and motivation. Knowing why keeps you going. Knowing why drives your determination to get it done.

When you know why, your readers will also know why. If your book is written without passion or drive, a reader will be able to tell. They may leave it a bad review or not even finish it all.

When your readers can tell why you wrote your book, they will be invested. When in the hands of the right audience, they will share your passion. The right readers will love and embrace your message.
Learn How to Write Characters and Plots
So, you want to know how to write a book. You've gathered your supplies, set up your space, and bought some book and/or novel writing software. Now what? Now, you start crafting. Notice I didn't say writing.

If the book you're writing is a novel, you can't ignore the most important elements of story: plot and characters. They are essential skills to gain when learning how to write a novel.

Even in a nonfiction book, however, you're still crafting a narrative. What you're saying may be hard fact, but you're still toying with characters and plot.

Before you do any significant amount of writing, you need to be familiar with your characters and your plot. Even if you are fervently against outlining, you still need to know what you're doing.
Characters
Much of creating and developing characters will come with experience. But, there is still lots to learn before trying it for the first time. There are many things to consider when writing a good cast of characters:

Understand the difference between round characters and flat characters, and how to use each effectively.
Understand the difference between static and dynamic characters, and how to use each of these to your advantage.
Regardless of type, a character needs to be relatable to be likable. Knowing how to create a relatable character will also help you be deliberate about writing an unlikable character.
Give your characters deep thoughts, strong opinions, and realistic flaws.
Get inside the character's heads. This can be done with a character development sheet. Some also conduct "interviews" with their characters, and craft responses based on what they already know about the personality.
This list only scratches the surface. Writing strong, effective, and relatable characters is a true craft. It will take plenty of practice and lots of rewriting to get it done properly.
Plot
Just as important as the characters, is the plot. At its core, the plot is the sequence of events that take place in your story. But, the plot has to be written well in order for the book to be successful.

Like character development, plot development takes time and practice to learn. It is a good idea to read up on some basic elements of plot development, though, before attempting it on your own.

Plot and story structure go hand-in-hand. Familiarize yourself with the different types of story structure.
An appropriate setting is essential to a good plot
Every plot needs conflict. There are no exceptions to this.
Point of view must be determined – different points of view have their own list of benefits and drawbacks.
Learn the basic stages of each plot: Exposition, development (rising, inciting, and falling action, complications, increased tension), and the resolution.
Again, this list is not exhaustive but it is a good place to start if you've never written through an entire plot before. These terms and ideas are ones you will become increasingly familiar with as you embark on your book writing adventure.
Hire an Editor
Even the best writers in the world need an editor. Whether you are operating on a huge budget or almost nothing at all, an editor is a necessary expense.
It doesn't matter how much editing you do yourself, your work will always need another set of eyes. Even the best book writing software won't catch everything.

If you want to save some money, try handing your manuscript to friends and beta readers first. They can help you weed out the last of the grammatical mistakes. Good readers may also be able to help you with more complex thing like sentence structure and plot holes.
Once this is done, the editor will have less work to do. This will cost you less money, but you still need to hire them.

The best selling books are ones that are clean, polished, and professional.
Every so often, the odd grammar mishap will slip through the cracks. Most of the time, this is easily forgiven. However, if a single book is riddled with misused punctuation and terrible wording, it will not do well.

Find a Good Designer
In addition to needing an editor, recruiting a solid designer is essential. Unless you are one yourself, don't neglect to find a designer who can create a solid, customized book cover for you.

A  beautiful, eye-catching book cover will bring in more sales than some people realize. That cover is the first thing that catches someone's attention. It's what entices them to flip it over and read the synopsis.

Without giving them that urge to flip it, you won't have readers. First impressions matter.

The book cover is more than just the image you choose to put on the front. There are many elements of a book cover and they all need to be considered:

The book's subtitle (if applicable).
Author name.
Front cover main design/image.
The layout of the back cover  – Can include a synopsis, author info/photo, reviews/endorsements/praise for the book or author.
The spine.
Inside flaps (if applicable).
A good designer will come up with a suitable, high-quality, and captivating image for the cover. They should be able to create something that is unique and specific to the book itself.

But, they will also need to arrange the other elements of the cover in a way that is aesthetically pleasing and logical.

Once you have chosen a designer, don't be shy about speaking up. Even the best designers won't get it right the first time, every time.

If you don't like the image, tell them why. If the font isn't working for you, say something. Your designer is there to work with you to make the book perfect.

Trust their experience, but voice your opinions. At the end of the day, it is still your book.

Don't Fear Criticism
So many writers never put their work out there in a serious manner for fear of rejection and negative reactions. This is where many writers get themselves stuck and never advance in their career.

Don't be afraid of criticism! Tough, thorough critique from someone who knows their stuff is one of the best ways to improve your skills.

In fact, in addition to not rejecting criticism… you should seek it out. Send your writing to friends and tell them to be brutal. Post your work online and ask for complete honesty. When posting online, be strategic.

There are multitudes of platforms and communities for you to choose from. Some will get readers for your work no problem, but most of these people won't have any technical knowledge.

If its real criticism you are after, look for a strong and active community of other writers. Of course, you don't have to tolerate disrespect or any comments that are overtly cruel or demeaning but do not shy away from good quality criticism.
Be Part of a Community
Mentors can offer great support and advice. Proper constructive criticism will help you see your flaws and improve your skills.

In addition to these things, many writers will benefit from being part of a writing community. This will differ from mentorship and criticism as it isn't always just about you and your own work.

Writing communities can exist locally and be accessible in person, or there are plenty of writing websites available if you prefer to stay at home.
Perhaps you will do a little of both, but I can tell you from experience, a good writing community is essential to thriving as a writer.

Writing groups can be a place to get some good feedback and criticism, but it is also a chance for you to both get and give support in other ways. Meeting and/or talking with a group regularly will help you feel less alone as a writer.

You will see other writers experiencing similar struggles, and you can help each other through them. You can give advice as well as seek it.

It is also quite possible that you will forge solid friendships with some fellow writers. You can help each other through difficult parts of the writing process, such as brainstorming and research.

In addition to helpful criticism, it can also be a place to get some positive feedback. Other writers can read your work and tell you what is good about it. This can be just as necessary as criticism in building confidence and recognizing your strengths.
A book writing software will never replace real people.
Go Forth and Figure out How to Write a Book!
There are so many elements to writing a book. So many things you need to learn and a lot of skills you will need to develop.
Many writers have gone before you and come out as successful authors. There are some things that are proven to be effective, but in the end, it's largely going to fall on you to develop a style and process that works for you.

Seek help, listen to advice, read up on what works, but the best thing you can do is start writing! Put some words down and go from there.
There will be a lot of trial and error involved, but at some point, you need to just do it. You can research the process all you want, but you'll never figure yourself out if you don't get to work.
As you write, you will figure out what you like. You will decide what order you want to do things in, and you will learn which tools and writing software work best for you.

Once you find your flow and do it a few times, you will have your own insight to share with others! The world of writing is constantly evolving and anyone who has written anything – big or small – has valuable experience to share.