Writers have a wealth of options in producing quality content for books, freelance writing, blogging, and long form. These options are available for download and can be used in conjunction with other best writing software.
Some have a free version to use with an upgrade option. Others will require a range of fees.
If your passion is for words and needs a little boost in your grammar or organization, you can have a program at your fingertips. Writing is a skill that can be mastered through good practice and if you are a writer who wants to improve, technology advances have brought a plethora of options to help.
You can achieve your goals in improving your writing or helping you flesh out your biggest novel. Before you know it, you will be a slaying wordsmith.
Before you spend a lot of time on each tool it helps to know what kind of writing, you do most and from there look at the best options combined to give your writing a punch with quality content.
1. Are you a blog writer or a novel writer? Both?
2. Do you freelance for businesses with your writing?
3. Are you a researcher?
Once you know what you need, next take an honest assessment of your strengths and weaknesses.
Are you easily distracted?
Do you struggle to keep your ideas as you write?
Are you more creative but your grammar needs help?
Are you great at grammar but feel stifled to find a creative way to illustrate information to your reader?
Do you have a client that needs brochures and quality visuals for reporting?
Here is a breakdown of some best writing software that will benefit each type of writer. After you read this, no matter what your goal or style is, take some time and check out the best writing software for yourself. 
Squibler
Squibler is online software geared toward authors and their projects for books. This site allows for a distraction-free, goal monitoring and concise outline process for streamline writing. Once you are on the site, you can begin immediately.
Just a few simple questions and you are off to a quick start in writing. A rolling stone gathers no moss and this site sees to it that you get the ball rolling in less than five minutes. The site asks a few questions.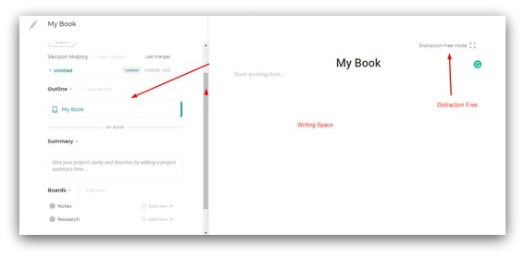 Once you are in, it is time to set your outline and get started. As you write you can make notes and keep a record of any research.
There is an export tool so you can share your work with a collaborator like your editor. For only $10.00 per/month and a 10-day free trial, there isn't anything to lose by trying it out.
Microsoft Word
Who hasn't heard of Microsoft? MS Word is writing software that is straightforward with an excellent interface. It comes equipped with the standard spelling check, grammar check, and formatting options for a writer.
Formatting options are simple and it is a great place to start when putting together an article, blog, and even a book.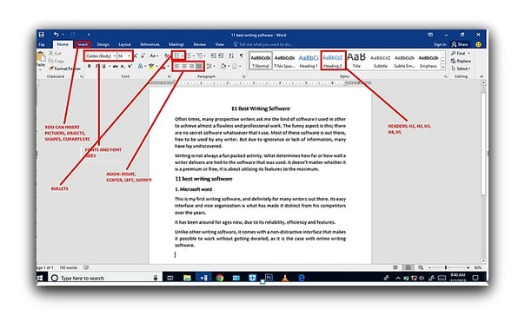 Aside from the headings tool, Microsoft Word comes helps to format headers, footers, section, and page breaks necessary for writing a book. The align feature aids in title positioning and scene breaks.
For a blogger, the bullet or numbering feature is a plus to help illustrate to your reader the main points of your content to lessen skimming your article. Word is your run-of-the-mill writing software with a general word and grammar check and this feature is available for a monthly or annual subscription.
I write books, blogs and freelance for clients. I would suggest having Word as a basic program to use. Most agents, publishers, and businesses will require submission by using Word.
I would not guarantee that this is the one stop shop for your writing needs for deeper editing and development. So let's dig further and see the additional features you can use to make your sentences snap.
WPS Office
I have been using WPS office right from the time I started as a freelance writer. The mobile version has many essential features needed to handle writing projects. Capable of working with file formats, such as PDF, Docx or Spreadsheets make this program impeccable.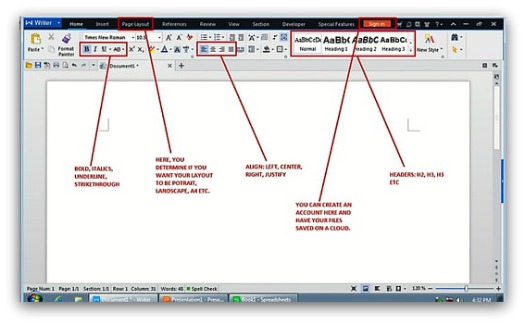 Like Word, it has several formatting options. You can also create an account to save your work online. 
The software can also be downloaded using Android apps. Its mobile free version contains all the features you need to write an article, blog post or novel. The caveat is limitations for making corrections and adjustments.
Scrivener
Scrivener is an online word-processing program that has been ranked as one of the top writing software programs for writers over the years. The easy-to-use interface and organization has an edge over other writing tools. You can organize your notes, characters, research, and many other elements for smooth handling. Below is an example of Scrivener's interface.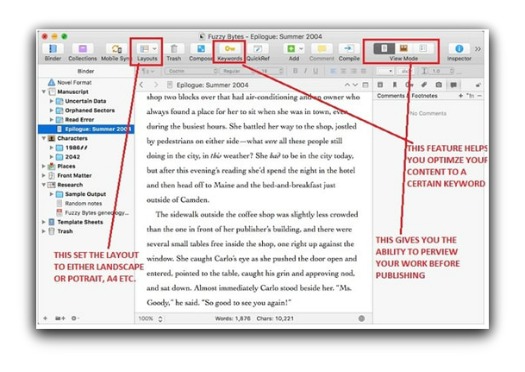 The keyword feature helps optimize the content to a desired keyword of choice. The layout mode, called the 'setup' page, is where you can set the layout of your work.
Another unique feature is the binder feature. Here, you can organize your work into characters, research, notes, and ideas.
This software would be a great fit for novel authors who need help in keeping various aspects of the story organized. With this tool, a writer won't lose track of a character's features or an important aspect of the plot.
If you have a written notebook that is crawling with random notes with whom, what, when and where and resembles more of a Scattergram than a careful note taking of your work, this may remedy that and keep you on the straight and narrow as you work. For bloggers in need of keyword tracking, this feature is a benefit for ensuring that target words are maximized and efficiently used.
Grammarly
I have used the Grammarly as a freelance writer. Grammarly offers similar grammar, spelling, and usage checks. The free version will catch extra spaces between words and general misspellings. It will reference other grammatical errors in sentence structure; However, the free version must be upgraded to a paid option before Grammarly will show what the correction is for some of those features.
If you struggle in using a passive voice when writing, Grammarly will catch that. Depending on what the writing is for, the audience or the client, a passive voice issue may not be your main priority. If you are an author, writing novels and like myself would rather avoid using the passive voice and Grammarly works well at finding that weakness!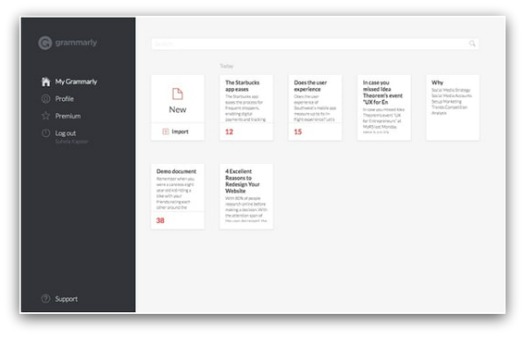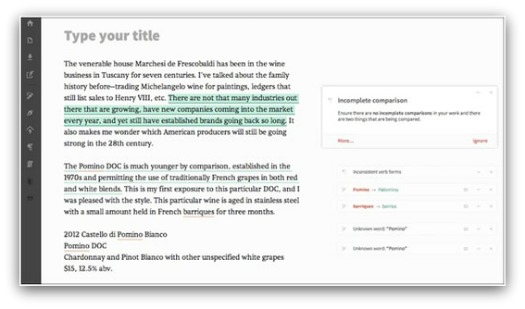 As mentioned, there is a free version and for added tools, you can upgrade. The monthly subscription costs $19.95, while the annual payment is $139.95.
Evernote
Evernote is another author favorite. This software is tailored to help writers keep ideas by creating a checklist. With its ability to save parts of web pages you can keep and organize research and references as you go. It even comes with a note-taking app handy while constructing your project.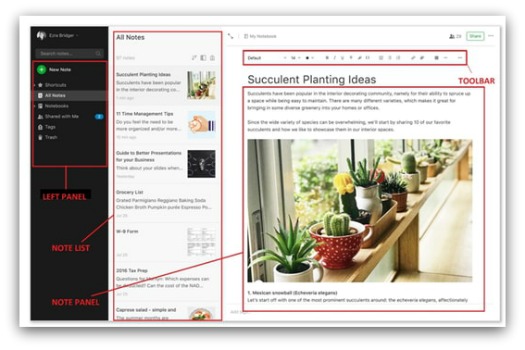 Like Grammarly, there is a free and premium version. The paid versions come with more storage memory. As you can see, the features are right in front while you work making navigation simple and efficient.
Google Docs
Google Docs is one of the online writing software continual added features and storage capabilities. It is a word processing online software, a free base office suite. It also comes with ready-made templates for writers are in haste to write, such as resumes and application letters that can be edited and customized. This software is free, and the interface is easy to understand and navigate.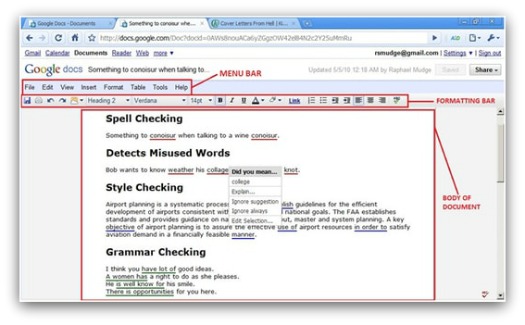 One of the unique features of this software is the ability to give other writers access to make edit, comment or read. If you have a group project or there is a need to collaborate with your coworker, editor or client, Google Doc makes this a cinch.
Focus Writer
This is a writing software designed for less distracting writing time. The principal aim is to eliminate distractions and judging from online reviews; the software is excellent.
There are fewer options for images for your background and a menu at the top that appears only when your mouse hovers over it. Focus Writer takes away the visual distractions for just as the word says, focus. If you like to set goals for time and word count, you can also stay on point with your writing by using the feature.
It may be preferable to writers who are freelancing or writing flash fiction to use this app as opposed to Scribner or Word. For short pieces, it is easier to use. It is available for Windows, Linus, and Mac.
You can save focus Writer in any format, like Text, Doc, PDF ETC. Below is a peek at the interface.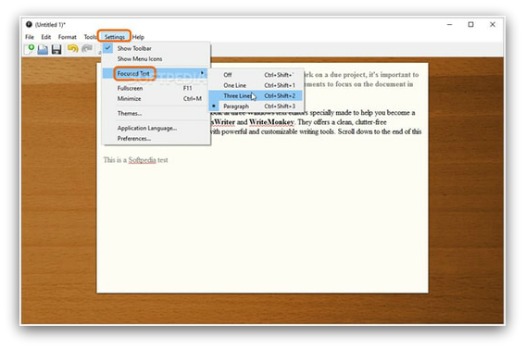 As you can see from the above image, the interface is simple, aimed at creating a less distracting environment.
iA Writer
iA Writer is an app that enables you to write in HTML or just in word and you can enjoy setting with features that allow you to concentrate on either the sentence you are writing or the paragraph. It's used to format and add tables.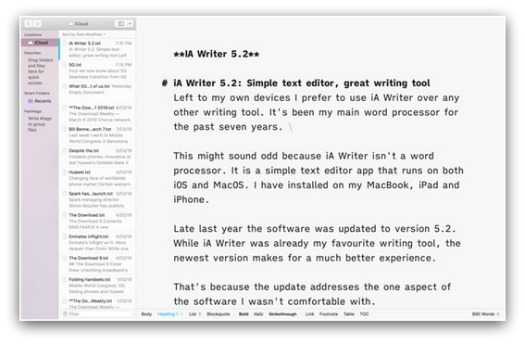 However, it is not an editor. It is like focus writer and also comes with the cloud to save files. Ideally, this is a great program for business use and freelancers.
WriteItNow
WriteItNow has been compared to Scrivener many times because of its similar features, by novelists. Though it doesn't come free, every buck invested on the software is worth it.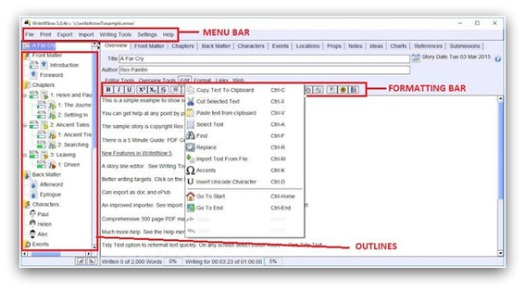 With a sleek and modern interface that makes it easy for writers to understand and navigate. It helps the outline and track various chapters, location, events, ideas, and even characters.
The link feature in this software allows you to add external and internal links in your novel. If you are a novel writer you can add this tool to your toolbox for $69.95.
Ulysses
Ulysses is another fantastic writing software that offers everything a writer needs to write something magnificent. It comes with a distraction-free environment that compels you to focus and finish your work. It is equipped with a library where contents can be organized and arranged.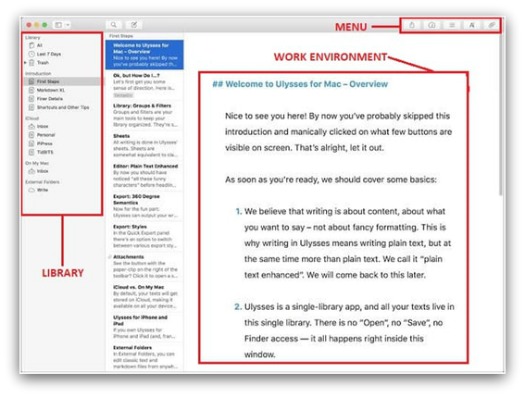 Ulysses comes with a free 14-day trial. A monthly subscription is $4.99 to $39.99 for a year. With one subscription, you gain access on all of your devices like Macs and iDevice. The only disadvantage to this software is its unavailability on Windows.
LibreOffice
Many writers enjoy this software because of its excellent compatibility with Microsoft Office and file formats like DOCX, PPTX AND PPT files. Over the years, some improvements have been made for additional product development to its 'big three' programs; Writer, Calc, Impress. This software is best for open source enthusiasts or perhaps, writers who want something compatible with Microsoft Office. It is an excellent choice for businesses and individuals alike.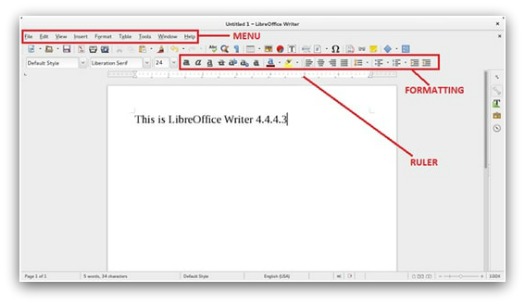 Is this software free? I think this is one of the many reasons many writers have loved it and it is free to use.
The only downside to this software is the missing cloud storage and real-time co-authoring. To some extent, those missing features will not matter to some writers, especially when there is other software where they can import their work and continue without hassle.
Find The Best Writing Software For You
There are many writing software programs out there tailored in bringing out your best writing. Anyone with the desire to learn can become a writer and continue to grow their talent. All you have to do is research each program and choose one that fits your needs. Ideally, each program helps authors or bloggers and some seem more business oriented. All of them are worth looking into depending on your comfort level, your goals and what feels best for you to use.